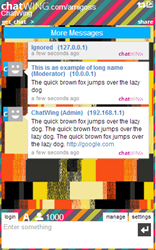 New York, NY (PRWEB) November 07, 2013
Chatwing's developers have recently stepped into the realm of financial blogging by emphasizing the positive effects of an embedded chatroom. In line with this, the developers have also launched the chat app 3.0—a platform equipped with tons of new features, such as premium services, social sharing option, and greater customization preferences. Chatwing chat software ensures financial bloggers that the chat app 3.0 can generate high rates of traffic.

Unbroken traffic. This is the first positive effect brought by the Chatwing website chat app. With unbroken traffic, the financial blog will have higher rates of exposure in the long run. This simply means that the blog will have more subscribers, especially if the blogger's exposure strategy is productive.
Increased user interaction. Chatwing's newest platform is now focused on better connectivity among visitors and users. Through the social sharing option, the chatroom owner can share interesting conversations to his peers. Additionally, chatroom visitors can also log in with their Facebook and Twitter accounts, so they can send invitations to each other.
Better financial discussions. Since discussions are crucial to any financial blog, Chatwing chat app can provide a bridge for all users to share their financial ideas. By brainstorming with chatroom visitors, the financial bloggers can come up of new and interesting ideas. This will make the blog more valuable than ever.
Chatwing.com is always striving for the improvement of its services. Aside from financial blogging communities, the company is also intent on reaching out to different niches and social networks.
About Chatwing.com
Chatwing.com is a company that has brought innovation to the modern chat widget. Operating for more than five years now, Chatwing and its team of developers have dozens of ideas ready to be introduced to the public. The Chatwing chat app is an easy-to-use online tool that can help web users interact with each other and can also generate continuous traffic. Chatwing will always be a "freemium" application for everyone.