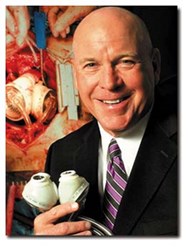 HOUSTON, TX (PRWEB) November 06, 2013
ReliantHeart, Inc. has become the successor-in-interest to the assets of MicroMed Technology, Inc., the manufacturer of a class III ventricular assist device (VAD) called the HeartAssist5®. ReliantHeart Inc. will manufacture, sell and support the HeartAssist5® and its suite of VAD products and accessories.
The HeartAssist5® grew out of a research and development collaboration between NASA, Baylor College of Medicine, and heart surgeons Dr. Michael DeBakey and Dr. George Noon.
Rodger Ford, known for leading the efforts to restore Tucson, AZ-based artificial heart developer, SynCardia, to profitability, will serve as Director and Chief Executive Officer of ReliantHeart. During his tenure as CEO of SynCardia, Ford guided and directed the development of two new driver systems for powering the Total Artificial Heart (TAH).
While at SynCardia, Ford helped raise the capital that funded the development and launch of the Freedom portable driver, the world's first wearable TAH power supply. Under his leadership, SynCardia installed modern and effective business systems, such as MasterControl, quality management system software that also was later selected by the US Food and Drug Administration (FDA). In addition, he recruited an experienced management team that transformed SynCardia from a "science project" into a celebrated bioscience company.
ReliantHeart's tiny, revolutionary HeartAssist5® is a powerful, implantable, electric pump designed to augment a failing human heart. The HeartAssist5® has been proven effective in supporting blood circulation, reversing end-organ dysfunction and giving patients a much-improved quality of life as they await heart transplants. More than 12,000 patients worldwide have been supported by ventricular assist devices, or VADs, while awaiting transplant.
The HeartAssist5® is the only remotely monitored VAD in the world. Although competitors offer full-flow LVADs, only ReliantHeart's core products have been enhanced with the features that make up the HeartAssist5® System. The system increases clinical efficiency, improves patient safety and convenience, and saves hospitals and patients money. Its light weight and ease of use make the HeartAssist5® System well-suited for a broad range of clinical indications, such as destination therapy, bridge-to-recovery, and pediatric use. Its major components are:

The HeartAssist5®, the smallest and lightest full-support miniature axial-flow VAD on the market, is designed to be surgically implanted above the diaphragm, directly adjacent to the heart. This position requires less invasive surgical procedures than those used for older devices and is more comfortable for the patient.
The HeartAssist5® Conquest Controller™ is ReliantHeart's second-generation lightweight wearable controller, designed to collect critical flow data. That data, as well as speed and power measurements, are transmitted to caregivers through the exclusive HeartAssist5® Remote Monitoring System.
A battery pack powers the Conquest Controller™ and incorporates batteries and a plug-in adaptor.
The VADPAK carries the controller and batteries, and is designed to be worn on the patient's belt or over the shoulder.
The HeartAssist5® System received CE Mark Approval Certification in May 2009 and is currently being implanted in certified centers across Europe. The HeartAssist5® Conquest Controller™ and Remote Monitoring System received CE Mark approval for sale in Europe of all components in October 2012.ReliantHeart intends to enter the U.S. market through an IDE, which will allow the HeartAssist5® to be sold for use in a clinical trial approved by the FDA to collect safety and effectiveness data. The clinical trial is expected to commence in the second quarter of 2014. For more information, visit http://www.ReliantHeart.com.
# # #