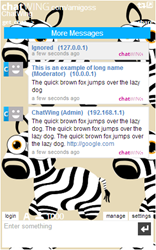 San Diego, CA (PRWEB) November 08, 2013
San Diego, CA – Based on global studies, the rate of the appearance of thought-provoking and intellectual blogs has tripled over the course of just three years. This simply means that people are getting more information from the entirety of the cyberspace. To tap this opportunity, Chatwing.com chat software has launched its newest chatroom app—an embeddable widget that can connect people through many ways possible.
"Bloggers in the thought revolution niche can benefit from our newest widget. We added a social sharing function, so that chatroom owners can share different conversations to their friends. Now, thought-provoking discussions can really travel far." Mike Diamond said. He is one of the lead developers and campaigners for Chatwing.com. "The customization process has also become easier for this newest version. Adding colors and background images can now be done in just seconds and users can get a preview of their customized widgets."
Dedicated chatroom owners can also purchase premium services if they want better exposure rates for their widgets. Each Chatwing website chat software premium service costs only 1 virtual coin per month. Virtual coins can be purchased by batches. The premium services can also be stopped at any point of time. This gives higher rate of flexibility for any user.
Chatwing's chat app developers are also pouring their initiatives to the creation of new features. These features can benefit bloggers from all niches possible. Additionally, the developers are also planning to make new online contests.
About Chatwing.com
Chatwing.com is a company that has brought innovation to the modern chat widget. Operating for more than five years now, Chatwing and its team of developers have dozens of ideas ready to be introduced to the public. The Chatwing chat app is an easy-to-use online tool that can help web users interact with each other and can also generate continuous traffic. Chatwing will always be a "freemium" application for everyone.