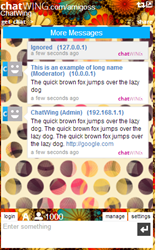 New York, NY (PRWEB) November 09, 2013
Political blogging is still a popular activity in the cyberspace, based on the niche research conducted by Chatwing chat software team. To support political bloggers in the Tumblr community, the company has introduced a live chat app complete with an array of useful features.
One of the key features of the live website chat room is social media integration. Through this, web users can log in with their social networking accounts. These can be Facebook, Twitter, Google, and Yahoo. Political bloggers can rely on this opportunity to increase the exposure rate of their blogs. For example, by having Facebook users as visitors, the political bloggers can join user groups in a short time.
Social sharing is a new feature introduced in the latest Chatwing widget. Through this social sharing option, chatroom owners can share important conversations to their peers. In political blogs, there is a large tendency that the conversations are useful. They can pertain to political projects, parties, candidates, and even debate ideas. Once these conversations are shared in social networks, their potency will become greater.
Recently, Chatwing developers are conversing with political bloggers about the importance of chatrooms in their blogs. The team is also planning to create chatrooms that are intended for political discussions so that people can discuss their thoughts and ideas. More updates can be seen in Chatwing's Facebook page and Twitter account.
About Chatwing.com
Chatwing.com is a company that has brought innovation to the modern chat widget. Operating for more than five years now, Chatwing and its team of developers have dozens of ideas ready to be introduced to the public. The Chatwing chat app is an easy-to-use online tool that can help web users interact with each other and can also generate continuous traffic. Chatwing will always be a "freemium" application for everyone.