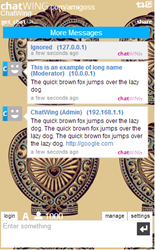 Cambridge, MA (PRWEB) November 10, 2013
Due to the rising influx of users in the Chatwing database, the company's developers are planning to create more chat networks in a span of three months. The chat networks can be about films, literature, fashion, home design, adult chat, and many more. The speed and efficiency of the chat software are also improved in the latest version.
For starters, a chat network is one of the best ways on how a user can widen his communication leverage in the Chatwing platform. According to many chatroom owners, the chat networks have increased their website's exposure by as much as 70%. The chat networks are niche-centric, so they have the potency to attract hundreds of users from various communities. This is essential for any online marketer who is building a subscriber base.
The allotted time for the chat networks is essential for the development team to weigh all of the possible angles. The angles being considered are popular niches, online topics, demand of Chatwing users, and the efficiency of the platform. Aside from that, Chatwing live chat software team is also working other important features that can bring global connectivity to a new level.
Chatwing Team believes that more chat app networks are beneficial to all users of the chatroom. By putting new chat networks, every user will gain the real benefits of embedding a chat app in their blogs and websites. Aside from that, users will make more friends in the long run.
About Chatwing.com
Chatwing.com is a company that has brought innovation to the modern chat widget. Operating for more than five years now, Chatwing and its team of developers have dozens of ideas ready to be introduced to the public. The Chatwing chat app is an easy-to-use online tool that can help web users interact with each other and can also generate continuous traffic. Chatwing will always be a "freemium" application for everyone.