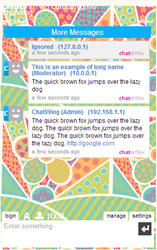 New York, NY (PRWEB) November 11, 2013
As the business niche in the cyberspace continues to grow, Chatwing.com has noted that business-related discussions became popular in the chatrooms. To tap this popularity, Chatwing chat software team has started spreading business topics. Here are some of the best topics found in many of the company's active chatrooms:

Start-up tips. By discussing start-up tips, web users will gain the right knowledge about starting the business they want. Some users believe that business is all about passion, while others think that the market dictates the niche. Chatwing live chat software moderators encourage users to share what they think about, thus resulting in lively conversations and brainstorm sessions.
Raising capital. According to popular research, there are many ways that users can find capital. However, in the flurry of information, beginners tend to get confused. In Chatwing chatrooms, users can gain important information about raising capital. They will know how to seek for angel investors and they also have the chance to reach institutions that are lending capitals.
Exponential growth. Discussions about business growth can also be found in the chatrooms. Under this topic, users often discuss about related business costs, such as marketing, inventory, and product improvement. Chatwing chat app developers believe that discussions about business growth are highly essential.
More information about niche discussions is provided in Chatwing's main Facebook page and Twitter account. Registered users are advised to visit these social networks for greater awareness about the live chat software.
About Chatwing.com
Chatwing.com is a company that has brought innovation to the modern chat widget. Operating for more than five years now, Chatwing and its team of developers have dozens of ideas ready to be introduced to the public. The Chatwing chat app is an easy-to-use online tool that can help web users interact with each other and can also generate continuous traffic. Chatwing will always be a "freemium" application for everyone.