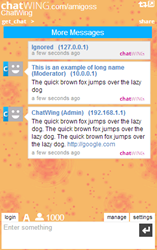 Dallas, TX (PRWEB) November 12, 2013
Chatwing Development Team has recently observed that the number of Anime chatrooms has doubled over the last few weeks. This is related to the launch of Chatwing's newest live chat software platform. The developers have emphasized that the platform is now jam-packed with useful features that can help Anime fans and bloggers share information.
Anime fans can rely on the social media connectivity offered by the chat app. Visitors can simply log in with their Facebook or Twitter accounts. From there, they can make new friends and expand their social networks. Another useful feature is the social sharing option. Through this option, the chat software chatroom owner can share interesting conversations and gather insights from his friends.
Cosplayers can also use the application to gather tips about events. The Chatwing app is flexible enough, so users can share the link to the chatroom as often as they want. The chatroom can also be modified. Anime bloggers can put in the pictures of their favorite Anime shows, as well as their image creations. Customizing the chatroom can only take few minutes, depending on the user's preferences.
Aside from the Anime niche, Chatwing.com is also expanding to other communities. In this way, the company can spread awareness about the chat platform. The company can also enhance the way people communicate with each other. Registered Chatwing users can expect for more upcoming features in weeks or months.
About Chatwing.com
Chatwing.com is a company that has brought innovation to the modern chat widget. Operating for more than five years now, Chatwing and its team of developers have dozens of ideas ready to be introduced to the public. The Chatwing chat app is an easy-to-use online tool that can help web users interact with each other and can also generate continuous traffic. Chatwing will always be a "freemium" application for everyone.