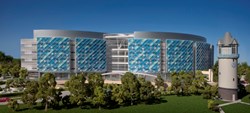 Washington, DC (PRWEB) November 05, 2013
David Bailey, president & CEO of Nemours joined a group of top health care executives and policymakers to address the most complex issues facing America's health systems at U.S. News & World Report's inaugural Hospital of Tomorrow conference taking place Nov. 4-6 in Washington, D.C.
Dr. Bailey will share Nemours experience and lessons learned in a session on Designing Hospitals for 21st Century Care on Tuesday, Nov. 5. Nemours had two hospitals with over 1.1 million square feet of space under construction in 2012, and recently celebrated the one-year anniversary of Nemours Children's Hospital in Orlando, Fla. New patient towers under construction at Nemours/Alfred I. duPont Hospital for Children in Wilmington, Del., are scheduled to open in 2014.
"Hospital design and construction has an important role in the healing process, fostering quality care and improving outcomes," said Bailey. "In the past, hospitals were built for doctors and procedures. Today we partner with our patients and families, use evidence-based design to create an environment imbued with light and nature to speed healing and reduce the perception of pain, and employ technology as a means, not a substitute for compassionate, personalized, patient- and family-centered care."
The Hospital of Tomorrow conference will gather executives from the nation's leading health care institutions as well as industry analysts and policymakers to address today's critical health care challenges.
In addition to Nemours' Dr. Bailey, speakers at the U.S. News Hospital of Tomorrow conference include:

Toby M. Cosgrove, M.D., President and CEO, Cleveland Clinic
Victor Dzau, M.D., Chancellor of Health Affairs, Duke University
Thomas Frieden, M.D., Director, Centers for Disease Control and Prevention
William H. "Bill" Frist, M.D., former U.S. Senate Majority Leader
Robert C. Robbins, M.D., President and CEO, Texas Medical Center
Donna E. Shalala, Ph.D., President, University of Miami; former U.S. Health and Human Services Secretary
Peter L. Slavin, M.D., President, Massachusetts General Hospital