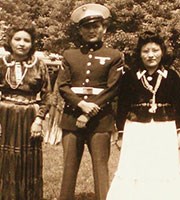 It's like the Oscars for veterans...they've risked their lives and shaped our country's history."
Washington, D.C. (PRWEB) November 06, 2013
On November 9th, the American Veterans Center, which represents all who've served our country, will gather among senior military to honor seven distinguished U.S. veterans at a special ceremony. These seven war heroes have served in conflicts ranging from WWII to Operation Iraqi Freedom, and all have shown bravery and valor above and beyond the call of duty during combat.
"It's like the Oscars for veterans," says James Roberts, President of the AVC, the organization that selects the honorees each year. "The American Veterans Center (AVC) wants to give these brave heroes an awards ceremony, like top stage and screen actors get. They deserve this, as they've risked their lives and shaped our country's history."
For a complete list of the seven honorees for the 2013 American Veterans Center Honors, please visit http://www.americanveteranscenter.org/events/avchonors/.
Among the 2013 veteran honorees is Chester Nez of Albuquerque, NM, the last survivors of the original "29 Navajo Code Talkers." He and his team helped devise a code, based on their native language, that confounded the Japanese military and helped win WWII.
Also among the honorees are Lt. General Frank Petersen, Jr. of Kent Island, MD, the first African-American Marine Corps aviator and General, and General Frederick James Kroesen, Jr. of VA, a four-star Army General who commanded troops in WWII, the Korean War and the Vietnam War. Two Medal of Honor recipients are among the honorees – former U.S. Senator Bob Kerrey, who served in the Vietnam War as a Navy SEAL officer, and Clint Romesha, who fought gallantly in the Battle of Kamdesh during the war in Afghanistan.
The five living honorees will accept their awards at the special Honors Gala just before Veteran's Day on November 9th at 7:00pm at the Renaissance Washington D.C. hotel. Family members of two deceased honorees will accept on their behalf.
The Honors, attended by past and present senior military officials, will feature a special toast to honor the Doolittle Raiders, the heroic airmen who launched a daring retaliation following the attack on Pearl Harbor. This will happen the same night as the three raiders themselves will make their emotional final toast at the Air Force Museum in Ohio.
The Honors program will air on the Pentagon Channel on November 16 and 17, making it the only televised awards program for our nation's military heroes spanning multiple generations.
Interviews with AVC leadership and veteran honorees are available upon request.
About the American Veterans Center:
The American Veterans Center (AVC) is a 501(c)(3) non-profit educational foundation dedicated to preserving and promoting the legacy of our military personnel. The Veteran's Day events are held annually in Washington D.C. For more information, visit http://www.americanveteranscenter.org.