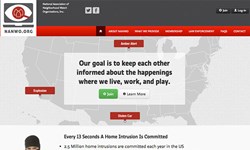 This technology is not meant to replace neighborhood watch, it is a tool to bring neighborhood watch into the digital era.
Atlanta, GA (PRWEB) November 05, 2013
The National Association of Neighborhood Watch Organizations, or NANWO, is launching new technology Thursday at the National Association of REALTORS annual event in San Francisco (#NARannual). The new technology is designed to make communities safer by dispersion of important information real-time by text messaging, similar to how Amber Alerts work. This technology puts the power of communicating important and time sensitive information to the masses in the palm of your hand.
"This technology is not meant to replace neighborhood watch," stated Rodney Russell, CEO of NANWO. "This is a tool to bring the neighborhood watch into the digital era. Our goal is to keep each other informed about the happenings where we live, work and play."
Joel Black, CTO of NANWO and owner of Black Bear Design, the web design company that developed NANWO explained that this application has so many more uses than just neighborhood watch. "Imagine all of the benefits an application such as NANWO can provide to schools, law enforcement, cities, sates and the country. If a suspicious character was lurking around a school, a single person with NANWO and a smartphone could blast out a text to everyone at the school, parents in the area, law enforcement and school officials within seconds. A single tragedy averted is by all means worth the $6 per year investment!"
NANWO is currently in conversations with local law enforcement agencies to provide the service for officers. The benefits NANWO could provide to local law enforcement include real time notifications of events in the community, historical event information, tracking and even crime prediction and prevention.
We have learned this in only the first phase in the launch of the new application. Many more features are currently under development, although the company is not releasing any information about what those new feature will include.
About NANWO
The National Association of Neighborhood Watch Organizations, Inc. is incorporated in the State of Georgia. The purpose of the corporation is to allow the people of individual neighborhoods across the country to stay informed concerning the happenings in their individual neighborhood, as well as the happenings in other neighborhoods in the nation.
Advances in communications technology and the universal acceptance of Smartphones and the Internet, have changed the way we all live. Our organization has brought the concept of the Neighborhood Watch into the twenty-first century. Incident notification or corrective action that took minutes, hours, or days in the past, can now be effected in seconds.
About Black Bear Design
Black Bear Design is an Atlanta based web design firm offering all forms of online marketing services such as website design, search engine optimization and pay-per-click marketing.