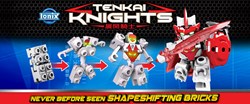 "The IONIX building platform is the evolution of construction play and an opportunity to change the way you build. It was designed to unlock your imagination, to reveal your inner creativity and to challenge you."
Toronto, ON (PRWEB) November 05, 2013
Spin Master Ltd, Canada's largest children's toy and entertainment company, revolutionizes the construction aisle this fall with the launch of the much anticipated Tenkai Knights toy line. Tenkai Knights is the first franchise to launch under the IONIX construction brand. IONIX is a revolutionary new construction system featuring never before seen, shape-shifting, building bricks. IONIX bricks are fully compatible with other construction sets, which makes the possibilities endless.
Kids of all ages will be able to bring the Tenkai Knight's world to life by unleashing the Tenkai power inside each of these truly unique construction bricks. These building bricks are packed with unexpected surprises; infused with a special kind of shape-shifting IONIX brick magic that will allow kids around the world to experience classic construction play in a brand new way. Moreover, the toys bring the characters and world of the Tenkai Knights animated TV series to life.
"Our passion is to push the boundaries of traditional toys and bring incredible innovation (and fun) to everything we create," says Ronnie Frankowski, VP of Marketing for Spin Master Ltd. "The IONIX building platform is a result of this joyful philosophy. It is the evolution of construction play and an opportunity to change the way you build. It was designed to unlock your imagination, to reveal your inner creativity and to challenge you."
The Tenkai Knights TV Show, which airs Saturday mornings on Cartoon Network, is a unique US and Japanese co-production that plays to the strengths of each partner. The Spin Master entertainment team worked hand in hand with powerhouse production company, Shogakukan-Shueisha (ShoPro), one of the best anime producers to create a first class, globally successful animated series. Tenkai Knights has a unique style; mixing traditional 2D animation with extraordinary CGI which creates a distinct look that separates Tenkai Knights from other series.
Tenkai Knights by IONIX is available at Toys R Us and Target now and at Wal-Mart on December 1, 2013.
For additional information, please check out our website, http://www.tenkaiknights.com.
About Spin Master Ltd.
A multi-category children's entertainment company, Spin Master has been designing, developing, manufacturing and marketing consumer products for children around the world since 1994 and is recognized as a global growth leader within the toy industry. Spin Master is best known for such popular brands as boy's action phenomena and 2009-2010 Boy's Toy of the Year winner Bakugan Battle Brawlers™, and award-winning brands Air Hogs®, Aquadoodle™, Spin Master Games™ including the popular Hedbanz™, Tech Deck™, Zoobles™ and SpyGear™. The company has also marked an entry into children's media with the launch of Spin Master Entertainment, a subsidiary focusing on the design, development and production of television and other media properties. Spin Master employs over 900 people with offices in Toronto, Los Angeles, London, Paris, Hong Kong, Mexico City, Munich, and Milan. For additional information please visit: http://www.spinmaster.com.