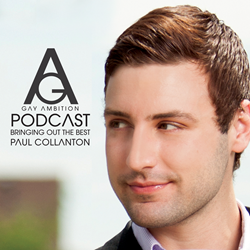 (PRWEB) November 06, 2013
Paul Collanton's inspiring new blog and bi-weekly podcast, "GayAmbitionBlog.com ," was just nominated for best 'GLBT' podcast at the annual Podcast Awards. Gay Ambition aims to "bring out the best" in its international LGBT audience, which spans from the U.S. to Indonesia, Spain and Denmark. Listeners are encouraged to "dream big" and accomplish their goals. The 9th Annual Podcast Awards Ceremony will be held at New Media Expo in Las Vegas, on Sunday, January 5, 2014.
Though "Gay Ambition" is a new venture by the young entrepreneur, Collanton has already captured interviews from many powerful movers and shakers. The blog and podcast have featured more than 25 influential LGBT leaders, sharing their stories, experiences and paths to success. These role models are from all corners of society: Business, sports, civil rights advocacy, technology, media, and entertainment. Interviews include Wade Davis, former NFL player; Roger Goodman, an original Stonewall Rebellion Veteran; Chris Parente, Emmy Award winner; and Merryn Johns, Editor-in-Chief of "Curve Magazine."
Far from the content found on other blogs, the interviews on Gay Ambition are professionally-crafted and span the broad range of LGBT life. They are chalk-full of information that listeners can use to improve their careers and personal lives. In addition, the social media presence of Gay Ambition is expanding - web pages are compatible with most hand-held devices, plus podcasts are now available in iTunes.
Collanton earned his Business Management and Finance Degree, graduating with honors from San Diego State University. He was promoted into IT Sales Management and Business Development, launching key accounts, such as IBM and Dell, while starting his blog and podcast projects. He recently founded "Proudly Speaking" Toastmasters, a dynamic Denver club teaching speech and LGBT leadership skills.
Collanton's work has been featured in other LGBT publications, including Out Front Colorado, Healthy Gay Lifestyles, Gay Business & Marketing Made Easy, Pink Banana Biz & Gayosphere
Audio podcasts are now available in iTunes: https://itunes.apple.com/us/podcast/gay-ambition-podcast/id635758443, and written blog and interviews can be found at: http://www.gayambitionblog.com/ . You can vote for Gay Ambition Podcast daily through November 15 at 9PM EST at: http://www.podcastawards.com/.
Some of Gay Ambition's interviews include:
Merryn Johns, Editor-in-Chief, 'Curve Magazine'
Brad Clark, 'Human Rights Campaign'
Chris Parente, Entertainment Reporter and Emmy Award Winner
Wade Davis, former NFL Player and Executive Director of 'You Can Play' project
Roger Goodman, Stonewall Veteran, Author and Film Producer
Stan Kimer, former IBM Diversity Executive and President & Owner of 'Total Engagement Consulting'
Carl Sandler, CEO of 'MISTER APP'
John Carvalho, West Hollywood Entertainment Advocate
Mark Vogler, founder of 'Out in the Vineyard'
Aaron Bailey, Principle and Founder of '601am' publishing
Eden Lane, Broadcast Journalist at 'Colorado Public Television'
Juliette Prais, Founder & Managing Director of 'Pink Lobster Dating'
Miles Cressman, Author of 'A Paean to Dreams'
Shane Mayer, co-founder of 'Gyde.ly'
Bradley Roulston, co-founder of 'Time.ly'
Matt Skallerud, founder of 'Pink Banana Media'
Riley Folds, founder of 'OUT for Work'
Jenn Grace, founder of 'Gay Business & Marketing Made Easy'
Ed Johnson, founder of 'Suitlink'
Kristin Beasley, Owner of 'The Ubiquitous Farm' & 'Clarity of Thought Consulting'
Jim Burba & Bob Hayes, founders of 'Burba Hotel Network'