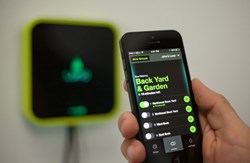 Salt Lake City, UT (PRWEB) November 14, 2013
Tired of having to figure out how to schedule your outdated sprinkler control box each spring, tirelessly running back and forth between the yard and garage to which station is running?
Lono, an American Fork Utah company, has developed a game changing technology for your lawn and garden. The Lono Sprinkler Controller replaces your outdated, low-tech sprinkler controller with an intelligent and easy to use device that is connected to the cloud and managed with a slick app on your smartphone.
Designed to streamline the process of watering your lawn and garden, Lono can adjust the amount of water that's distributed to specific zones. This is ideal when one area of a yard is exposed to sunlight for a longer period of time than other areas during the day. Scheduling water times is also not a problem with the Lono Sprinkler Controller. The device has the functionality to set a start and stop time for the entire lawn and the app will adjust each station accordingly. It also has different water conserving features like seasonal adjustments, weather and temperature monitoring, and automatic watering adjustments to make sure that the yard gets the accurate amount of water.
Worried that your sprinklers will run on a rainy day when they don't need to, by tapping the "Snooze" button within the Lono app, the system can be automatically paused for 24 hours. Lono also offers the ability to use a third party sensor in case the user wants to automate rain detection. Many water districts in the country currently offer rebates for installing water saving devices around the home, which can offset the cost by up to half in some cases. Between the rebate and the efficient control of a sprinkler system that will result in using less water, Lono is a smart and cost effective choice.
Installing the Lono Sprinkler Controller is very simple. Plug it into a standard power outlet, connect all the valve control wires, and then link the device to your home's wifi network. Now it is ready to connect to the app on your smartphone for final scheduling and testing of zones. Lono has the capacity for up to twenty different zones. However if a home has more than 20 zones, multiple Lono devices can be connected and controlled within a single app.
Lono will retail for $199, but via their Kickstarter campaign, early backers can purchase the device for $149 or less depending on the available funding options. Having successfully reached their funding goal, there are still many funding goals they are hoping to reach and homeowners have less than 25 days to get this low price. The company expects to ship the completed device to early backers by March 2014.
Lono is the ideal device for any home or business owner that wants much greater control over making sure his/her yard looks its best.