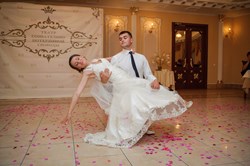 InWeddingDress.com will create a couture Inspired version at a fraction of the cost.
(PRWEB) November 06, 2013
InWeddingDress.com is an experienced design team specializing in custom made wedding dress and is proud to offer an extensive range of wedding dress designs for those looking for that unique wedding dress. They have previously designed and created outfits for thousands of brides worldwide.
Have you ever fallen in love with the top of one dress, and the bottom of another? Or a gown that you've seen in white or ivory, but you would love to have it in another unique color? Have you fallen madly in-love with a designer wedding gown but have had your heart broken when looking at the price tag? Skip all the bridal salon commissions and heavy mark ups, send us your pictures, and let InWeddingDress.com create a custom couture reproduction of the dress.
InWeddingDress.com will create a couture Inspired version at a fraction of the cost. Customers can even request modifications to the gown to make it a very unique design. The gown will be made using their finest fabrics, and will be fully lined, boned, interfaced with bust cup support. They only create gowns the couture way, not the cheap-knock off way.
At InWeddingDress.com, they understand that a bride wants to be unique while still maintaining elegance. Their gowns are not mass-produced. Each gown is individually handcrafted and is custom made based on the style, color and size of customers' choice. They can customize necklines, silhouettes, bodices, skirts, corset backs; and add sleeves, raise necklines and so much more. Simply tell them about the fantasy wedding dress and they will make the dream gown a reality.
InWeddingDress.com's experience of providing brilliant bespoke wedding attires design services and alterations, including wedding gowns, bridesmaid dresses, mother of the bride dresses and flower girl dresses has attracted hundreds of satisfied, repeat clients. Brides don't have to compromise fit for fashion, because they custom design and hand craft every piece, just about the only one. InWeddingDress.com's team of master tailors provides unmatched craftsmanship, style, fit and personalized service to make your dreams come true.
About InWeddingDress.com
As one of the most recognized bridal gown manufacturers in the world, InWeddingDress.com is well known for designing, producing and delivering the best fit in the industry, coupled with the highest quality construction, fabrics and hand sewn embellishments. The company's main products include wedding dresses, bridesmaid dresses, flower girl dresses, mother's dresses, prom dresses and other related accessories.
For more information or advice, please visit: http://www.inweddingdress.com.