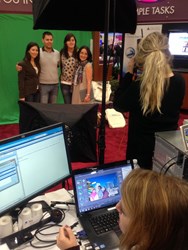 When looking for a way to attract attendees to your booth, consider Green Screen Photography and Onsite Printing Photography
San Diego, CA (PRWEB) November 05, 2013
Recently at the San Diego Convention Center Professional Images Photography provided Convention Photography and Green Screen Photography with Social Media for the ACR Convention. 12000 attendees were streaming in and out of meetings, breakouts, events and tradeshows for 5 days. Covering a meeting important for marketing collateral and having the right photographer can help improve attendance. Joseph Rodriguez has over 20 years immersed in the Convention and Conference industry and knows what clients want. It is the reason Professional Images Photography is always on top of the search engines when looking for convention photography services.
Another service that was a huge success was Green Screen Photography with Social Media. This service allowed attendees to choose from several different local San Diego hot spots for great photo ops. The attendee stands in front of a green screen, gives a great smile or even ad-libs with a corny pose and in seconds the images are produced and printed. A great take away if created while the attendee engages with the company that hired Professional Images to develop a new lead, nurture a current customer or create another business opportunity. In addition to the photo presented every attendee provided an email that was entered while the photo prints so the attendee also gets the photo via email and a customize message from the client thanking the attendees for stopping. The images are often shared instantly via Twitter, Facebook or Instagram and social media reach is impacted for the client.
Professional Images Photography knows how to help business create opportunities with the latest in Onsite Printing Photography and Green Screen Photography. When looking for something different look no further to Professional Images Photography.
About Professional Images Photography:
Professional Images Photography provides Convention Photography, Event Photography, Event Photo Marketing, Tradeshow photography and Green Screen Photography since 1987. Based in San Antonio, TX with offices in Washington, D.C., New York, NY, Houston, TX and Las Vegas, NV.