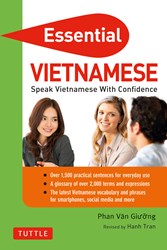 North Clarendon, VT (PRWEB) November 13, 2013
Its newest addition to its Essential Phrasebooks Series, Tuttle Publishing has announced the release of Essential Vietnamese. Learning Vietnamese and engaging in Vietnamese conversation is made easier, more accessible, and more enjoyable in this new phrase book. The book presents practical language of everyday interactions by incorporating fundamental sentences used when meeting people, starting conversations, and asking and replying to questions in Vietnamese, as well as a basic grammar and pronunciation guide to help you start speaking Vietnamese right away.
Essential Vietnamese includes:

Over 1,500 essential sentences for everyday use
A glossary containing over 2,000 terms and expressions
A handy format for finding the information you need quickly and easily
The book also details terms and phrases covering mobile phones, wireless, and social media help you make the most of the language. In addition, sentences on the essentials of travel help visitors navigate the basics of arranging accommodations, dining out, dealing with transportation and more. The book releases on November 26th and will be available in bookstores, Tuttle Publishing and on Amazon.
About Tuttle Publishing
Established in 1948 by Charles Egbert Tuttle Jr. in Rutland, Vermont and Tokyo, Japan, Tuttle Publishing is the premier publisher of English language books on Asian culture. Today, Tuttle maintains an active offering of books on a wide range of topics, including Asian culture, Asian literature, Asian architecture, Eastern spirituality, gardening, cooking, martial arts, crafts, travel, health and wellness, and fine art for a worldwide audience. For more information, visit http://tuttlepublishing.com.