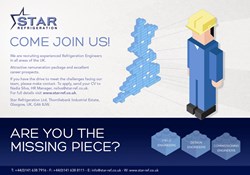 We could use another 10 to 15 refrigeration maintenance, commissioning and design engineers in the next 5 months.
London, UK (PRWEB) November 06, 2013
The refrigeration job openings arrive in sync with the company's growth on the operations and aftercare business division over the last year, which provides an indication on a larger trend for 2014. "We could use another 10 to 15 people in the next 5 months," said John Fraser, MD of Operations at Star Refrigeration.
The strategy centres on the opportunity to provide high-performance custom-built maintenance programs that are proven to increase plant reliability, efficiency, and therefore reduce life cycle operating costs directly affecting business profitability.
With the green legislative agenda and continuing rising energy costs driving the refrigeration and heating customer's strategy, reducing energy consumption has a financial incentive, since in refrigeration-dependent business, energy is a major proportion of the system running costs. The ongoing maintenance and the operating energy cost of the equipment throughout its life cycle is about 85% of the total life cycle costs.
The industrial refrigeration contractor has largely weathered the recession due to its permanent commitment to sustainable growth, and will continue to evaluate trends affecting the future of all company stakeholders.
John Fraser said: "We are very much looking forward to new talented engineers becoming a valuable addition to our refrigeration maintenance team."
About the available Jobs:
Maintenance, Service, Commisioning and Installation Refrigeration Engineers Jobs:

Fabricate, fit and assemble refrigeration plant components in accordance with work instructions.
Install and commission new or replacement plant and, as appropriate, take responsibility for sub-contract staff.
Respond as instructed to contract maintenance or service requests for systems inspection repair or overhaul.
Attend to system failures, diagnose faults, identify solutions and rectify.
Safe handling and recovery of refrigerant.
Experience with Ammonia or Carbon Dioxide desirable, although full training will be provided
F-Gas certification essential
Working in Glasgow you will either be responsible for or working on the development and design of large industrial refrigeration systems ensuring accuracy, best practice and full compliance with regulations and standards at all times.
The successful applicants will be team players, and customer focused, with experience of fluid system design, thermodynamics, and component selection preferred.
Practical experience would also be an advantage.
Appropriate qualifications include degrees in chemical or mechanical engineering.
A driving license is essential.
Apply Now by sending your CV to Human Resources Manager Nadia Silva at nsilva(at)star-ref(dot)co(dot)uk.