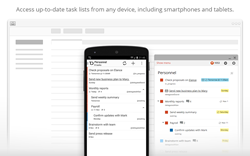 "Gmail has over 500 million users and is a great platform. Unfortunately, Gmail's built-in tasks app doesn't even begin to meet users' needs. We have made something much better– something that can make you truly more productive inside Gmail."
Porto, Portugal (PRWEB) November 05, 2013
Today Todoist, the leading task management tool, releases a Gmail Plugin compatible with Google Chrome and Firefox that will make managing tasks from Gmail's inbox as simple as one click. This plugin extends Todoist's availability to an impressive 12 platforms, including iOS, Windows, Android, the web, and more– serving Todoist's one million users around the globe.
An impressive 75% of Todoist's users utilize Gmail as their primary email which means that, with this plugin, they will enjoy much simpler task management directly from their inbox. The plugin allows users to save emails as to-dos with specific due dates, with just one click– making follow-up to any email either sent or received nearly impossible to forget. In addition, you can see your tasks within the plugin categorized by the day or week, or view a complete list of all pending to-dos to which you can assign a priority in order to best stay focused.
Todoist's Gmail plugin allows users to constantly stay in sync by accessing up-to-date task lists from any one of the 12 platforms on which Todoist is available. The immediacy that the plugin provides can simplify even the most burgeoning inbox– a priceless feature that makes Todoist's full integration and native apps the hands-down choice for task management.
"Gmail has over 500 million users and is a great platform. Unfortunately, Gmail's built-in tasks app doesn't even begin to meet users' needs. We have made something much better– something that can make you truly more productive inside Gmail," comments Amir Salihefendic, Todoist's CEO.
For more information about or to download the Todoist Plugin for Gmail, please visit http://www.todoist.com/gmail or view this short video.
Screenshots Click Here
About Todoist
One of the first available task-management software on the market, Todoist, launched in 2007, is a powerful task manager for personal productivity that lets users manage tasks from their inbox, browser, desktop, or mobile device. Todoist is available on twelve different platforms and is used by one million people (many from Fortune 100 Companies like IBM, Oracle, and HP) who have completed more than 30 million tasks. Todoist, built by a 15-person virtual team, is proof that amazing technology can be built outside of Silicon Valley by focusing on staying lean, working virtually and finding amazing talent around the world.
Press Contact | Brenna Loury | brenna(at)doist(dot)io | Telephone +1-970-672-0055