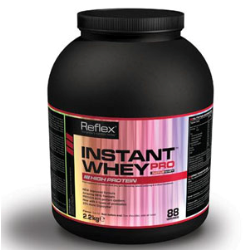 Reflex are merging two of their biggest selling Instant Whey variants into one headlining formula, Reflex Instant Whey Pro®.
(PRWEB UK) 6 November 2013
There's no room for wastage in the fitness industry. Athletes looking to get the absolute best results from their bodies want to ensure they're putting only the absolute best ingredients into it initially. With an industry worth over £62 billion sinking funds into iterative increases in nutrition and efficiency, any major changes from a front-running company are bound to be big news.
Reflex Nutrition has long been one of the supplement industry's top supplement manufacturers, with a large part of this popularity upheld on the strength of their Instant Whey product line. Significantly, Reflex are merging two of their biggest selling Instant Whey variants into one headlining formula, Reflex Instant Whey Pro®.
The new product is named after the most significant addition to Reflex's tried and tested formula, a collection of four probiotics adding up to 2 billion healthy bacteria per 100g of the new product, and 25% more DigeZyme®. For many nutrition enthusiasts these are a major selling point. Lactobacillus acidophilus aids lactose digestion for those with a milk intolerance, while Lactobacillus rhamnosus has been proven to help prevent diarrhoea, respiratory infections, and even anxiety.
Reflex Instant Whey Pro is replacing two of the brand's most popular sellers, Instant Whey Duo® and Instant Whey Native®, intended to provide the former's top-tier nutritional value accompanied by the wide range of flavours associated with the latter. The final product uses a blend of protein sources, from the newly improved super CFM whey isolate, to hydrolysed whey proteins and un-denatured whey concentrate, all of which combine to offer a unique profile of amino acids unachievable via any other protein source.
The new formula will be launching across UK retailers throughout November, available in 88-serving, 2.2kg packages, with seven flavours to choose from. If they can't wait for launch, consumers can still pick out their old favourites from the existing stock of Reflex Nutrition products, though Instant Whey Pro will be hitting stores shortly.
Muscle Finesse are one of the country's largest suppliers of weight-loss and bodybuilding supplements, equipment, and clothing, working with consumers, personal trainers, gyms and retailers across the UK and abroad.
For enquiries about availability and orders for Reflex Instant Whey Pro at either consumer or trade prices, or for any other queries and questions, simply contact Muscle Finesse by phone on 01733 232 994, or email support(at)musclefinesse(dot)com
Reflex Instant Whey Pro is currently on sale from Muscle Finesse at the discounted launch price of £44.99, a £35.00 saving off the product's RRP. Visit now and join the waiting list for an additional 10% when the new and improved formula launches.