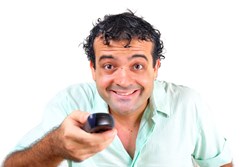 Sometimes potential first-time TV advertisers are deterred by worries about costs – but, with careful planning, TV advertising may well cost much less than they expect
London (PRWEB UK) 6 November 2013
First-time TV advertisers can make significant cost savings by following advice from The DRTV Centre.
The UK economy is at last showing healthier growth: +0.8% in the third quarter of 2013, up from +0.7% in the second quarter of the year, according to revised figures from the Office for National Statistics. Given greater levels of business confidence, more advertisers will be seriously considering trying TV advertising for the first time but may be concerned about costs. In this article The DRTV Centre tells clients how to avoid unnecessary expense.
How to moderate TV commercial production costs
Visit ad agencies experienced in TV. Check out their agency showreels and ask the agencies about typical commercial production costs.
Speak directly to three or four of the agencies' current TV clients about how their commercials have performed.
Having chosen your TV ad agency give them a clear written brief and a sensible but tight production budget.
Allow your agency adequate time to create – say 3 or 4 weeks.
Once the script is agreed, do not make script changes.
Other factors which affect TV production costs include location, music, numbers of actors and how they are remunerated, special effects and production values.
Perhaps surprisingly, good and effective low budget DRTV commercials can be made for between £5,000 and £10,000; these would normally utilise animation, stills or library footage.
Original DRTV filming costs from £15,000 dependent on the complexity of the TV script and the desired production values.
More ambitious DRTV scripts, for example on location, may cost £30,000 or more.
How to moderate TV media costs
The media cost of TV advertising is determined by several variables:
Time of day - The day is divided into these 'dayparts' and costs vary accordingly.

Breakfast (0600 - 0930). Audiences are quite large and are costed accordingly.
Daytime (0930 -1730) Smaller audiences with a higher proportion of older viewers. A particularly effective environment for direct response TV advertising.
Peak time (1730-2300). The biggest audiences and the most popular programmes, meaning higher prices.
Late Night (post-2300) Smaller, more specialist audiences, especially younger, male viewers.
Programmes - It is more expensive to advertise in high-profile, top-rating programmes. Speciality programmes have lower audiences and are cheaper – these could be very attractive to relevant products or services.
Time of year - The cost of advertising on television varies by month. Advertising in July and August represents especially good value. January is generally the cheapest month of the year. Pre-Christmas is the most expensive period.
Commercial time-length - A 60-second spot will cost twice that of a 30-second. Note that 20-second and 10-second spots are proportionately more expensive.
Target audience - Cost will also depend on the level of detail in specifying an advertiser's target audience. The more plentiful and accessible the audience, the cheaper the rate for reaching them, expressed on a cost per thousand viewers basis. Thus men aged 16-24 are much more expensive to reach than all adults, for example.
Regionality - The provision of regional flexibility differs by broadcaster. ITV can offer a full regional breakdown while others, such as satellite channels are normally costed only on a national basis.
David Pearson, Founder and Owner of The DRTV Centre, says "Sometimes potential first-time TV advertisers are deterred by worries about costs – but, with careful planning, TV advertising may well cost much less than they expect."
Mission: "To create Instant New Customers for our clients."
The agency was founded in London in 1997. It specialises in direct response television advertising.
The DRTV Centre's service includes everything clients need to mount successful TV campaigns: strategies, idea creation, scriptwriting, storyboards, research, casting, location search, film/video production, music, voice-overs, Clearcast clearance, transmission copies, channel selection, TV airtime planning/booking and campaign response analysis.
The agency's experience includes advertising travel and holi-days, annuities, coins & jewellery, communications, compari-son websites, education, equity release, injury compensation, law, loans, pet insurance, and toys.
For more information, call The DRTV Centre on (UK) 0800 635 9000.