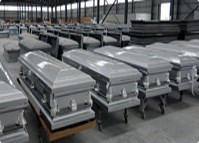 (PRWEB) November 05, 2013
Today, MillionaireCasket.com, a leading casket company from China that offers a wide range of caskets, announces that it will hold a seminar on how to improve casket quality; the seminar will be held on Nov. 12, 2013.
Based on the sales director of the company, there is a total of 12 companies that will attend the seminar. As the host, MillionaireCasket.com will introduce how to distinguish high quality metals from others. The company hopes to help its clients and partners worldwide to find a more effective way to produce high quality caskets at affordable prices.
"Some typical defect cases will explain the production process in a simple way, so that the distributors and our partners can get a clear understanding of our products and services. Moreover, any order before November 25, 2013 can get a discount, up to 35% off. Please contact with us for more details," says the sales director.
MillionaireCasket.com is a distinguished casket manufacturer and wholesaler; the company regularly adds several new designs of caskets to its product catalog every 3 weeks. The company's products are ensured to be in line with the comprehensive ISO9001-2000 compliance quality control program. The European and American markets are the main markets for this company, because the sales turnover there takes up over 80% of its profit margin.
About MillionaireCasket.com
MillionaireCasket.com is a leading casket company based in China. It focuses on the business of casket wholesale. It offers an exquisitely crafted line of all kinds of metal caskets, solid wood caskets, veneer caskets, cremation caskets, rental caskets, orthodox caskets, infant or over-sized caskets and European style coffins.
Visit http://www.millionairecasket.com/ for more details.