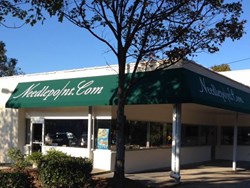 With our Grand Opening coming up, we are offering great deals with our usual huge selection and knowledgable service.
Raleigh, Nc (PRWEB) November 06, 2013
Needlepoint.Com sells beautiful hand painted needlepoint canvases, needlepoint accessories, tapestry wool and a variety of other threads in our Raleigh store, as well as online. Melissa Stanley, manager of the retail store operations of Needlepoint.Com said: "Our enthusiastic needlepoint customers are delighted with the convenience and modern layout of our larger store." She added: "With our Grand Opening coming up, we are offering great deals with our usual huge selection and knowledgable service to women and men of all ages who enjoy stitching beautiful designs for pillows, ornaments, even rugs to enhance their home's decor." Our Grand Opening starts today and runs through Saturday, November 9th. Store hours are Tues - Fri 9:30-4:30 and Sat 10:00-4:00.
Elizabeth Bradley Designs, America's largest needlepoint kit vendor and Kirk & Bradley, Throughly English Needlepoint, are also headquartered in the Raleigh location.
Elizabeth Bradley Designs has just completed a very successful needlepoint kit advertising campaign in Martha Stewart Living Magazine. Vicki Callaway, Director of Marketing for EBD explained: "We are not yet sure if it was the high quality and beautiful designs of our needlepoint kits that are driving our growth, or if it is simply that the remarkable recent resurgence of the art and pastime of needlepoint itself. Our new premises at 3811 HIllsborough will make it much easier for us to continue to serve our customers with the high level of customer service and product quality they have come to associate with Elizabeth Bradley Design's needlepoint products.".
Lizzy Hardy, head of EBD's latest initiative, Kirk & Bradley needlepoint, added: "My customers and I are thrilled we are getting the space we need to serve the rapidly growing interest in our beautifully hand-painted needlepoint canvases. Kirk & Bradley's fun designs are peaking interest among stitchers looking for something different."
Even Jen London VP of technology for Elizabeth Bradley Designs insisted the move was important: "You would think running an online virtual store would not require physical space in Raleigh, North Carolina. But I can't tell you how excited I am to be able to offer a greatly expanded inventory of designs and products to all the current and new needlepointers who are finding our services on Needlepoint.Com from across the Internet." Jen added: "I suspect the resurgence of interest in the art of needlepoint has a lot to do with needlepointers being able to find each other on Facebook, Pinterest and Twitter."
About EBD: Elizabeth Bradley Designs Inc. is a thirty-year old designer, manufacturer, and distributor of needlepoint products. Based in Raleigh NC, and Oxford, England, the company operates under the names Elizabeth Bradley Needlepoint Kits - http://www.elizabethbradley.com, EB Tapestry Wool, Kirk & Bradley Needlepoint Canvases - http://www.kirkandbradley.com, and Needlepoint.Com both online globally and via its bricks and mortar store in Raleigh.