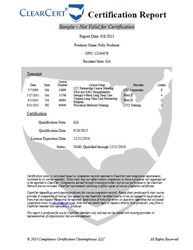 ClearCert is by far the best way to thoroughly and correctly verify that LTC requirements have been met. I have yet to see a system like this; it's impressive.
Cincinnati, OH (PRWEB) November 05, 2013
ClearCert (the Compliance Certification Clearinghouse, LLC) today introduced the Certification ReportTM, an all-in-one transcript and statement of producer compliance with mandatory training requirements in the 42 states that have implemented them since 2006. This can result in significant savings in time and money when compared to more labor-intensive approaches.
"The Certification ReportTM was developed in response to requests from frustrated representatives of firms that comprise the distribution channels for long-term care insurance carriers," noted Bill Wienhoff, ClearCert's president and membership director. "Carriers must track training compliance, but distributors often deal with contracts and applications returned because the carrier can't validate a producer's can-sell status. The Certification ReportTM instantly shows the producer's lifetime transcript of related courses and verified status for any selling situation. By including this report with an application, the distributor proves the status has been pre-validated. Compared to manual processing, the time savings are dramatic – and the validation is authoritative, eliminating the headache of returned business. Users tell us that the report saves as much as a day and a half of effort on a single case."
The report draws from a database of over 350,000 training completion records reported directly to ClearCert by participating training firms, which have submitted 3,000 courses for listing on the firm's website, along with state-by-state training rules. The Certification Report applies state rules as adopted by participating carriers – ensuring that the distributor's licensing and contracting staff is on the same page with the carrier. "Compliance with mandatory long-term care insurance training remains problematic," said Wienhoff.
"The elegance and cost-savings of a shared solution confers benefits to the entire product chain – carrier, distributor, producer – with the consumer as the ultimate beneficiary."
The Certification ReportTM is available through log-in to the firm's website or via an automated web service feed for high-volume users.
Reaction from representatives of the distribution community – especially BGAs, MGAs, and agencies – has been very positive. One noted, "The system you have created at ClearCert is by far the best way to thoroughly and correctly verify that LTC requirements have been met. I have yet to see a system like this; it's impressive. I cannot tell you how much I learned the past couple weeks just by working through a few cases spread throughout the US."
A free white paper detailing the issues involved in LTCI training validation and a sample Certification ReportTM are available at http://www.CertificationReport.com.
About ClearCert
ClearCert is the gold standard for validating product-specific training compliance. More than 1,000 insurance carriers, distributors and training providers share data through the firm's clearinghouse. State-by-state training rules and courses pre-certified to fulfill them are published on the firm's website, http://www.ClearCert.com.