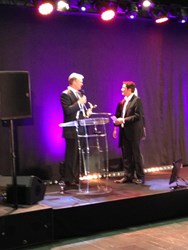 Houston, Texas (PRWEB) November 05, 2013
Dr. Henry Mentz, a triple board-certified plastic surgeon at the Aesthetic Center for Plastic Surgery, was one of four American guests of honor at October's inaugural Anti-Aging Medicine European Congress in Paris.
Dr. Mentz presented on 3-D body contouring techniques, including Abdominal Etching®, a procedure he invented in 1992 to sculpt an athletic appearance in the abdomen by suctioning fat from around the muscle. In his lecture, he also taught 3-D contouring, safety and comfort in tummy tuck surgery.
"It was a pleasure to attend the AMEC meeting," Dr. Mentz said. "I received valuable feedback from my European peers on specialized body contouring, and I learned a great deal."
While in attendance, he also received an award for the "Best Clinical Case in Surgical Facial Rejuvenation".
"What an honor," Dr. Mentz said. "I have always enjoyed facelifts because each one is unique and presents new challenges. I aim to be the best at what I do, so this award means a lot."
About Dr. Henry Mentz:
Insecurities regarding body image can cause overwhelming stress, anxiety and even pain. When needing guidance through a decision regarding surgery, finding an expert in aesthetic plastic surgery is essential in order to achieve the look and results aspired. Dr. Henry Mentz, a triple board-certified surgeon, has been recognized as one of Houston's leading plastic surgeons and a principal authority on the subject. For more than 20 years, Dr. Mentz has drawn upon his diverse and extensive aesthetic plastic surgery training to constantly perfect and refine surgical procedures and deliver the results his patients expect. He has helped countless patients achieve their aesthetic goals. Over the years, Dr. Mentz has refined and perfected surgical techniques to achieve his primary goal - to give patients a natural and youthful appearance that is minimally detectable. For more information, visit Dr. Mentz's website at http://www.DrMentz.com, or call 713-799-9999.