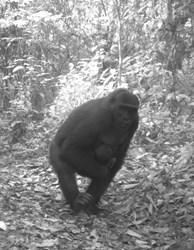 The birth defines another significant step in protecting a critically endangered species, whose numbers are falling at an alarming rate.
(PRWEB UK) 6 November 2013
The Aspinall Foundation is thrilled to announce the birth of a new western lowland gorilla in Gabon. Carefully placed camera-traps have captured exclusive images of the new mother Souba and her baby, providing the team with an exciting first glimpse of the newborn gorilla.
The birth of the new western lowland gorilla is a great development for The Aspinall Foundation's Gorilla Protection Project in Gabon. It defines another significant step in protecting a critically endangered species, whose numbers are falling at an alarming rate.
Amos Courage, the Overseas Director, explained: "Our camera traps have captured images of Souba and her newborn on a number of separate occasions, and they both appear to be doing well. Tonga, the newborn's father, has also been observed within the vicinity shortly afterwards, which suggests that he is successfully slipping into his paternal role by remaining close to the infant."
The Aspinall Foundation, a world leading animal conservation charity, has been working with the national government and local communities in Gabon since 1998 to protect the western lowland gorillas. The project presently protects almost 1 million acres and has been praised for the success of its anti-poaching activities. A recent scientific study published in the international conservation journal Oryx has also confirmed the success of reintroducing western lowland gorillas to areas of Africa where they were previously extinct.
Damian Aspinall, Chairman of The Aspinall Foundation, commented: "We are thrilled about the birth of a new gorilla as it demonstrates the success of our overseas conservation project. We have become a world leader in the conservation of the western lowland gorilla, and every new birth is another step towards preserving the species for future generations."
The project has so far enjoyed the success of 10 gorilla births in Gabon, with a total of 25 births across the Gorilla Protection Project in Gabon and Congo. Each birth is extremely important as the reproductive rate of gorillas is exceptionally low. Gorilla numbers have also fallen by more than 60% over the last 20 - 25 years as the result of high levels of hunting and disease-induced mortality. Moreover, scientists have calculated that even if all of the threats to the gorillas were removed, it would still take around 75 years for their population to recover.
Souba arrived at the project after she was orphaned by poachers. After being successfully integrated into a new family of gorillas, she met Tonga in April 2011. Their initial integration however proved to be challenging, as Souba had been habituated close to humans and would often try to approach the team tracking them. Upset by this, Tonga made grand displays that eventually influenced her not to approach them, and their relationship has since flourished. Click here to read the latest updates from The Aspinall Foundation's conservation projects in Africa.