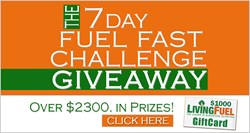 "The 7 Day Challenge/FUEL Fast is the most profound health enhancing technique ever!" -KC Craichy, Founder & CEO, Living Fuel
Orlando, Florida (PRWEB) November 06, 2013
Living Fuel, the leader in Superfood Nutrition, is encouraging people to take steps now to look and feel great going into the Holiday Season. The Fuel Fast Challenge Giveaway offers a First Place prize of a $1000 virtual Living Fuel Gift Card, 2nd place is a $500.00 virtual Living Fuel Gift Card and the 3rd place winner will receive a $250.00 Living Fuel virtual Gift Card. In addition, 3 random drawings for Living Fuel $200 prize packs will be held at the conclusion of the giveaway on 12/9/2013. No purchase is necessary. Complete details are available on the Living Fuel Facebook page at http://www.facebook.com/livingfuel. Simply click the the orange "Click Here" giveaway button on the page.
The giveaway highlights the 7 Day Fuel Fast Challenge. The challenge encourages participants to imagine beginning the holiday season with noticeable benefits of increased energy, strength, endurance and weight optimization. To imagine craving foods that are good for them and realizing that they can take take positive action to control their health, and achieve a quality of life that many only dream about. Participants are encouraged to set a goal of enjoying maximum health and optimizing their weight now, and setting a goal of starting the new year without needing to set a resolution to lose all of those extra pounds that are often gained during the holiday season.
KC Craichy, Founder & CEO of Living Fuel, is excited about this opportunity to help people take a big step toward optimal health with Maximum Human Nutrition. "The 7 Day Challenge/FUEL Fast is the most profound health enhancing technique ever," Craichy said. "When the body gets everything it needs It can accomplish miraculous things!"
The journey begins with the 7 Day Fuel Fast Challenge. Once the challenge is accepted participants will find themselves on the threshold of vibrant health and incredible energy. In one week, Living Fuel participants will be on a course of optimal nutrition that will change the rest of their lives.
A brief video explaining the 7 Day Fuel Fast Challenge can be viewed at http://www.livingfuel.com/Seven_Day_Challenge.aspx.
About KC and Monica Craichy
KC Craichy is the bestselling author of Super Health: 7 Golden Keys to Unlock Lifelong Vitality and The Super Health Diet: The Last Diet You Will Ever Need! KC Is also the Founder and CEO of Living Fuel, Inc.—The Leader in Superfood Nutrition. He is a health advocate, researcher, and recognized expert on natural health and performance nutrition. His extensive study of leading-edge health research and collaborative work with top medical and nutritional practitioners and researchers to solve his wife Monica's health problems—anxiety, depression, and suicidal thoughts—along with the grace of God, led him to the answers for Monica's healing and to the founding of Living Fuel, Inc. As a result of overcoming this health crisis, KC and Monica have helped numerous people become overcomers in their own health situations. Together, they are now cohosts of the popular Internet TV program called LivingFuelTV.
KC is committed to changing lives through multimedia, super health lifestyle education combined with super healthy, high impact superfoods. He also serves on the Nutrition Advisory Board for Titleist Performance Institute and served on the Clinical Nutrition Review Board (the certifying body of the International and American Association of Clinical Nutrition) for seven years. A frequent natural health and performance nutrition guest on various TV and radio programs as well as a frequent contributor to national magazines and blogs, KC lives in Orlando, Florida, with his wife, Monica, and their five children.