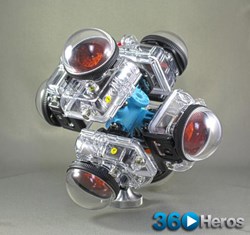 Holy Sharks! Its like Google Street View but Underwater and its interactive 360 Video!
Olean, NY (PRWEB) November 06, 2013
Michael Kintner, President, Inventor and manufacturer of 360Heros™ 360-degree video gear, announces the release of "For the Love of Sharks" with Bill Macdonald Productions using the new underwater 360 Video Gear called "H3ScubaH6". This stunning 360° interactive video of an epic scuba dive with over 30 sharks swimming around the divers is produced by environmental filmmaker Bill Macdonald for Sea Pulse Films and Macdonald Productions. This jaw-dropping footage shot in the crystal waters off a Micronesian reef gives the viewer the same perspective as the unprotected diver encircled by these magnificent creatures. The documentary-style 360 virtual tour was shot with the 360Heros H3ScubaH3 Plug-n-Play™ holder using six GoPro™ Hero3Black cameras. This footage can be scaled for HD online delivery or displayed at a resolution of over 5K (5,500 x 2,750 pixels.)
It creates both an interactive 360 Photo and High Definition 360 Video
Interactive 360 Photo: http://macdonald.360heros.com/360Photo/2013-YAP-Sharks/index.html
Interactive 360 Video: http://macdonald.360heros.com/360video/2013-YAP-Sharks/index.html
Scuba tours are offered in the majestic and pristine waters off Manta Ray Bay Resort in Yap, Micronesia, and is known as a diver's paradise. The full 360° by 180° unobstructed deep water "All Around You™" immersion creates a highly realistic diving sensation. The 360Heros Scuba video gear uses 360Heros patent pending snap on domes with interchangeable filters, the 360H6 holder and together can go to depths of 200 ft. The system will work with GoPro™ Black Hero3 cameras, or with the newly released GoPro™ Hero3 Plus cameras.
Michael Kintner has developed his 360 video gear using a special flexible aircraft grade nylon that is 3D printed and designed to be extremely lightweight, flexible and durable for 360 imagery production– from one-click 360° panoramic photos and over six different camera holders for ground, aerial UAV's and underwater solutions that generate resolutions as high as 6,000 x 3,000 pixels. Additional development is underway at 360Heros that will also allow the viewer to integrate 3D technology with mobile devices or the Oculus Rift that promises to give viewers unbelievable 3D 360° video accesses to monumental and remote places and experiences. The 360Heros video gear has been to the top of Mount Everest to the deep sea in South Africa and has been sold in over 31 countries worldwide.
We will be presenting the new 360Heros H3ScubaH6 video gear at the 2013 DEMA show in Orlando, Florida on November 6-9, 2013 at the Manta Ray Bay Resort Booth #1020.
About Michael Kintner
Michael Kintner is the CEO/Inventor and founder of 360Heros, a high tech videography and photography company with products that enhances GoPro cameras and other small HD quality cameras by giving 360° panoramic photos and video, full spherical 360 degrees by 180 degrees photos and video, aerial views and virtual tours of any environment. 360Heros products have been utilized for a wide range of applications for personal use and commercial projects for the Military, Tourism, University Research, Marine Research, Music concerts such as the Webby award winning Beck/Chris Milk interactive concert, high resolution display advertising for Amour, Ford and an online interactive campaign for Visa.
Michael Kintner holds a bachelor of science in Engineering and Information System Technology, a Masters in Information Technology Management, and has earned numerous certifications in Microsoft development. Michael's expertise in Business Development, Computing Graphics, CAD/CAM/CNC, Mechanical Engineering, Aerial Photography, Videography, RC robotics, and experimental flying combines the expertise and skills for the new state-of-the-art technology developed for 360Heros, including 360° Plug-n-Play holders, training and education, 360° virtual tours, 360° video, aerial services, photo reproduction, film producing and post-production services. For more information, visit http://www.360heros.com. For media inquiries contact media(at)360heros(dot)com.