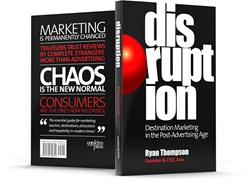 Dallas, Texas (PRWEB) November 05, 2013
In the age of social media and digital platforms that give consumers an immediate, loud, and powerful voice to publish to the world their wants, needs, opinions, praises and complaints, marketing and advertising has seen a paradigm shift. The consumer is in control of how they find and digest information. The days of mass, one-to-many advertising through television commercials and carefully-crafted magazine ads are over. Disruption: Destination Marketing in the Post-Advertising Age, a new book by Ryan Thompson, Founder and CEO of award-winning ad agency Aria, addresses the new digital communication era and artfully explains how today's marketer should approach today's consumer.
Travelers trust reviews from complete strangers more than brand advertising. Consumers are now clearly in control, choosing what, when and how they digest information. Chaos and real-time is the new marketing "normal." So, how can professional tourism marketers get their messages across? How do you infiltrate a consumer's daily routine to become something of interest and not just another annoying sales pitch?
Disruption: Destination Marketing in the Post-Advertising Age is the essential guide for marketing tourism organizations including hospitality, tour operators, CVBs, DMOs and attractions. Readers will learn a three-part approach to tourism marketing in modern times. The book contains ideas and suggestions you can implement immediately and helpful examples, case studies, tools and templates to get you started.
"I have partnered with Ryan and the Aria team for several years as our marketing agency of record," says Kim Phillips, Executive Board Member of the Texas Travel Industry Association and Vice President of the Denton Convention & Visitors Bureau. "The ideas and thought direction laid out in Disruption are exactly what Ryan and his team do at Aria day-to-day, using emerging technologies and focusing on the consumer, rather than the advertiser alone. This is a great read, and I would definitely recommend it to any tourism professional looking to improve their marketing techniques."
Ryan Thompson, founder and CEO of Dallas-based marketing agency Aria, began his lifelong journey as an entrepreneur at age 11. At 14, he was a part-time shipping clerk at a technology company. At 18, he was handed control of that company's multi-million dollar worldwide trade show budget. At 25, he went out on his own starting Aria, a full-service, digitally-centered marketing agency that focuses on the consumer/brand experience.
The first 500 downloads receive Disruption for free for Kindle through 11/7/2013 - http://www.amazon.com/Disruption-Destination-Marketing-Post-Advertising-ebook/dp/B00FKDJ53A/ref=tmm_kin_swatch_0?_encoding=UTF8&sr=&qid.
To purchase hard copies, visit Amazon, http://www.amazon.com/Disruption-Destination-Marketing-Post-Advertising-Age/dp/1478702354/ref=tmm_hrd_title_0, or Barnes & Noble, http://www.barnesandnoble.com/w/disruption-ryan-thompson/1116992767?ean=9781478702351.
Visit http://www.disruptionbook.com for more information.