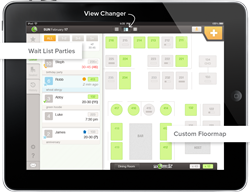 OpenTable acquiring Rezbook left some customers who were looking for alternatives stranded.
New York, NY (PRWEB) November 05, 2013
Initially after OpenTable acquired the Rezbook reservation system, it honored the contracts (and pricing) that Rezbook had with its 2,000 restaurant customers. However, months later, as those original contracts are coming closer to an end, many of the restaurants that opted for Rezbook services over those of OpenTable, are now once again seeking alternatives.
Part of the appeal of Urban Spoon's Rezbook was a lower monthly fee ($99 for Rezbook, compared to OpenTable's average fee of $279) as well as the ability to provide services off an iPad versus the custom hardware that OpenTable uses. Looking to meet the needs of these specific restaurants for a low-cost, mobile alternative to OpenTable, restaurant seating management service NoWait is making public its offer for all Rezbook customers to switch to NoWait for free for up to six months. The offer is now available at nowaitapp.com/rezbook.
"NoWait has been awesome. It has done so much more than anything we could have used before. It's one hundred times better," said Sally Hennemuth, Regional General Manager of Eureka! Burger, a former Rezbook customer. "The customer service has been unbelievable, taking less than a day to implement, and the transition from our old system was seamless. I'm so excited to use NoWait at Eureka!"
Seating more than 2 million diners each month nationally, NoWait's service helps non-reservation restaurants track and seat diners more efficiently. NoWait - like the Urban Spoon's Rezbook - has a cloud-based service, so that managers and restaurant owners can access their real-time seating data from any mobile device.
"OpenTable acquiring Rezbook left some customers who were looking for alternatives stranded," said NoWait CEO Ware Sykes. "We're giving these customers this special offer to let them know that there are better options, and to make that transition easier."
While NoWait can be used by restaurants to manage reservations, its primary function is to help restaurants manage their walk-in customers, which is why the service is used by popular independent, no-reservation hotspots like Iron Chef Jose Garces' Village Whiskey, Hubert Keller's Burger Bar and Marc Vertri's Pizzeria Vetri. Diners who walk into a restaurant using NoWait are able to track their place in the wait line from their cell phones and communicate directly with the restaurant about their party. In the first quarter of 2014, NoWait plans to launch a consumer-facing app nationally (it has already launched a version of the app locally in Pittsburgh, where the startup has an office) that allows diners to view wait times of nearby restaurants and remotely add their name to the wait list.
Having seated more than 21 million diners across the country, NoWait is constantly striving to offer the most up-to-date technologies, tools and services for restaurant front-of-house management. The NoWait restaurant app contains custom floor maps, two-way messaging opportunities with clients and, most recently, a quote time feature that uses a proprietary algorithm to accurately predict restaurant wait times for walk-in parties.
More information on NoWait's special offer for Rezbook customers can be found at nowaitapp.com/rezbook.