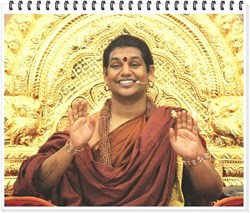 Education is nothing but Completing the Self Doubts - His Holiness Paramahamsa Nithyananda
Los Angeles, California (PRWEB) November 06, 2013
Paris has always been known as one of the world's great centers for academic achievement. Now it moves to a new level in education as the Nithyananda Hindu University (Universite Hindoue Nithyananda) establishes its physical roots in France while drawing from the ancient yet relevant teachings of the Hindu faith of India. and will soon be welcoming French and students from all backgrounds and from all over the world. Nithyananda Hindu University draws its inspiration and core curriculum from the teachings of H.H. Paramahamsa Nithyananda.
Nithyananda Hindu University will be directly affiliated with the Nithyananda Dhyanapeetam Ashram in Bidadi, Karnataka India, the international headquarters for the spiritual mission of H.H. Paramahamsa Nithyananda as well as the Nithyananda University in California, United States.
Nithyananda Hindu University curriculum will include courses in all the major Vedic Sciences including Sanskrit, Languages, Arts and Music, Yoga Paths, Vedanta, Ayurveda, Jyotisha among others and will also include aspects of Buddhism and Jainism and various mystical sciences of the East. These high quality and progressive teachings will be presented in appropriate levels and be certified as accredited university courses.
Prior to the official opening, Nithyananda Hindu University will collaborate with other Temples and Universities that offer Hindu-based teachings and will be participating in Paris town-hall meetings to create awareness locally for the University.
For more information on Nithyananda Hindu University – Paris please contact Ma Charanananda, Paris, France at macharanananda(at)gmail(dot)com.
About His Holiness Paramahamsa Nithyananda:
His Holiness Paramahamsa Nithyananda revered as a living divine incarnation by millions worldwide, is the 44th pontiff of the Mahanirvani Peetha, the most ancient apex body of Hinduism, as well as the 293rd pontiff of the Madurai Adheenam, the oldest monastery. He is the most watched spiritual teacher on YouTube with over 16 million views, and the author of more than 200 books published in 26 global languages. His talks are telecast live on http://www.Nithyananda.TV, everyday on multiple international television channels, two way video conferencing and Internet.
Nithyananda has been named among the world's top 100 most spiritually influential personalities of 2012. He is a world-renowned spiritual healer as well as scientist who has successfully demystified the yogic sciences like kundalini awakening, levitation, materialization, anti-ageing, etc.