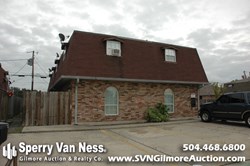 Kenner, LA (PRWEB) November 06, 2013
By order of local banks and others, Sperry Van Ness/Gilmore Auction & Realty announces the Q4 Year End Sell Off of more than forty (40) properties at public auction on Thursday November 21st, 7:00 PM at the Crowne Plaza New Orleans Airport Hotel, 2829 Williams Blvd, Kenner, Louisiana. More than twenty (20) of the properties will be sold absolute with no minimum or reserve.
Featured properties include a New Orleans Lakefront Boathouse, a 344 unit Apartment Complex, a Retail Strip Center along with Homes, Residential & Commercial Lots, Four-plexes and Commercial Properties.
Properties are located in New Orleans, Covington, Slidell, Abita Springs, Franklinton, Bogulusa, Hammond, Denham Springs, Gonzales, Marrero, Zachary, Franklin, Lacombe, Lake Charles, New Sarpy, Ponchatoula, Mt. Hermon and Chalmette, Louisiana and Picayune, Mississippi.
Online bidding is available for pre-bids and for online bidding during the auction. For more information including property descriptions, photos, FAQ's and terms visit http://www.svngilmoreauction.com or call Sperry Van Ness/Gilmore Auction & Realty at 504-468-6800.
Sperry Van Ness/Gilmore Auction Managing Partner, David E. Gilmore, CCIM states, "This will be one of the best opportunities to buy real estate in Louisiana in the last few years. Our clients are extremely motivated to sell these assets prior to year end."
Sperry Van Ness/Gilmore Auction & Realty is the Louisiana franchise office of Sperry Van Ness International, one of the largest and fastest growing commercial real estate brokerage firms in the industry, with more than 1000 advisors in over 150 locations in the United States. Sperry Van Ness delivers results for clients through a proven business model that provides advance marketing, technology tools and fee sharing. Sperry Van Ness/Gilmore Auction team members have more than 100 years of experience in planning, orchestrating and conducting successful accelerated marketing engagements throughout the United States.
Press contact:
David E. Gilmore, CCIM
504-468-6800 ext. 202
David.gilmore@svn.com
###