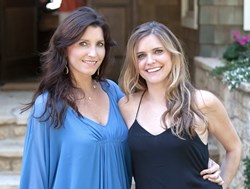 We design each collection as if we are packing for a trip...
Chicago, IL (PRWEB) November 07, 2013
Two sisters launch women's fashion label, Buckley K. Anne Kennedy Dotson and Sarah Kennedy left promising careers in public relations and occupational therapy to pursue their dream of launching a clothing company inspired by the concept of travel. Anne recently moved back from the Middle East, where she was living with her husband who was stationed in Bahrain. Traveling the region and discussing the pieces the two sisters wished they had in their suitcase was the final spark they needed to start Buckley K.
While the clothing line is inspired by travel abroad the Kennedy sisters are determined to manufacture and grow their brand in Chicago. "We are from the Midwest and like Chicago our brand is approachable with an intangible spirit - we absolutely wanted to set up shop here," says Co-Owner Sarah Kennedy. "We also think there is great opportunity for fashion brands coming out of Chicago. All of the infrastructure and resources are here so we are optimistic about being part of a growing apparel industry here," says Co-Owner Anne Kennedy Dotson. Buckley K just recently moved into a new office and design studio located in the Industrial Council of Nearwest Chicago (ICNC) building. The Buckley K collection will be available online and at select boutiques around the city and country.
The Buckley K brand focuses on luxe and laid back pieces, the go-to staples with a twist. "We design each collection as if we are packing for a trip. Each season will feature a different place in the world that we have either been or are inspired by," says Co-Owner Anne Kennedy Dotson. "We try to imagine the American woman abroad and what she might want to have in her suitcase and closet, pieces that are versatile, pretty and timeless."
"Our goal is to make fashion approachable and design pieces that women can wear often and in different ways. Our hope is that women feel as good as they look in our clothes so they can spend less time worrying about how they look in what they have on and get out-the-door or on-the-plane" says Co-Owner Sarah Kennedy.
Buckley K will begin taking pre-orders on their website, http://www.buckleyk.com on Friday, November 8, 2013. For more information please contact Anne Kennedy Dotson at anne(at)buckleyk(dot)com.
About Buckley K
Buckley K is a women's contemporary clothing company launched in 2013 by Sarah Kennedy and
Anne Kennedy Dotson. Buckley K began with a love for travel and a big idea: to imagine and create the go-anywhere-and-everywhere pieces we all need in our suitcase and every day. The Buckley K collection takes you anywhere and everywhere...the go-to pieces are as luxe as they are laid back. Buckley K is made in the U.S.A., in Chicago, where the company is headquartered.