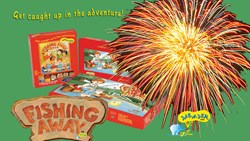 Kickstarter launch of Fishing Away with Erik is live.
West Chester, PA (PRWEB) November 05, 2013
DAB-A-DEW exists to enhance children's lives through educational entertainment that will teach children that a team effort empowers each of them and allows them to achieve results and create friendships and camaraderie.
Deborah (Whitelock) Brussolo conceived of the "Fishing Away" product as she watched people fishing on the shore of Ocean City, NJ in 1994.
Deborah's goal is to develop and market products through DAB-A-DEW specifically to establish and maintain a foundation to help children.
Bringing camaraderie to life, Deborah's team has circled her with all of their specialties from a marketing advisor, operations specialist to an entertainment attorney located in Louisiana where, following hurricane Katrina, DAB-A-DEW sent 75 games through City Team Ministries to comfort the lives of families.