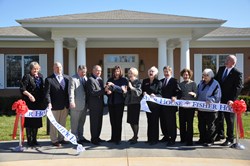 The Tennessee Fisher House serves as a tangible symbol of America's respect and love for our Veterans and will bless them and their families for years to come.
Murfreesboro, TN (PRWEB) November 07, 2013
The Director of the VA MidSouth Healthcare Network John E. Patrick, Tennessee Valley Healthcare System (TVHS) Director Juan A. Morales, Congressman Scott Desjarlais (TN-4), and Veterans from Middle Tennessee joined Fisher House Foundation President David Coker are here today to dedicate the newest Fisher House at The Murfreesboro Alvin C. York Campus of TVHS. Fisher Houses provide lodging for families of wounded service members and Veterans at no cost while a loved one undergoes treatment at the hospital. These beautiful homes enable family members to be close to a loved one at the most stressful time – during the hospitalization for a combat injury, illness or disease.
The 12-suite, 10,000 sq.-ft. "comfort home" joins the more than 60 Fisher Houses operating in the United States and Europe, and was gifted to the VA as part of today's ceremony. Each bedroom suite comes equipped with a private, handicapped-accessible bathroom. Common areas include a spacious kitchen, large communal living, dining and family rooms, laundry room and patio.
"The Tennessee Fisher House serves as a tangible symbol of America's respect and love for our Veterans and will bless them and their families for years to come," said Coker. "We have a great manager, in Becky Wood, who embodies the finest qualities – the care and compassion, for which the program is known. We are grateful for the tremendous support given by the Tennessee Fisher House Foundation and the local community who helped make this gift possible."
"The VA's mission is far-reaching and not only benefits Veterans but their loved ones as well. The Tennessee Fisher House supports this notion. I am pleased knowing this house will allow families the comfort they need, and Veterans the support they deserve," said Morales. "It will pay dividends in Veteran care, allowing those closest to them to be present during such difficult times and to be instrumental in the healing process of the Veteran."
Tennessee's Poet Laureate, Margaret Britton Vaughn, attended the dedication ceremony as well and read a poem entitled "Heroes," she wrote especially for the occasion.
Construction of this Fisher House was supported by: Team Fisher House at the 2011 Marine Corps Marathon, the 2011 Fisher House Golf Classic, The Harry and Jeanette Weinberg Foundation, the Tennessee Fisher House Foundation, the Newman's Own Foundation, the Iraq Afghanistan Deployment Impact Fund, and BAE Systems.
About Fisher House
Fisher House Foundation is best known for a network of comfort homes where families can stay at no cost while a loved one is receiving treatment. These homes are located at major military and VA medical centers nationwide, close to the medical center or hospital it serves. Fisher Houses have up to 21 suites, with private bedrooms and baths. Families share a common kitchen, laundry facilities, a warm dining room and an inviting living room. Fisher House Foundation ensures that there is never a fee. Since inception, the program has saved military and Veteran families an estimated $200 million in out of pocket costs for lodging and transportation.
Fisher House Foundation also operates the Hero Miles Program, using donated frequent flyer miles to bring family members to the bedside of injured service members as well as the Hotels for Heroes program using donated hotel points to allow family members to stay at hotels near medical centers without charge. The Foundation also manages a grant program that supports other military charities and scholarship funds for military children, spouses and children of fallen and disabled Veterans. http://www.fisherhouse.org
About Tennessee Valley Healthcare System
TVHS is a tertiary integrated healthcare system comprised of two hospitals, the Alvin C. York Campus in Murfreesboro, Tenn., and the Nashville Campus in Nashville, Tenn. TVHS has community based outpatient clinics located in Tennessee and Southern Kentucky. For more information about VA TVHS, visit http://www.tennesseevalley.va.gov/.
Hi Res Event Photos Available Via Dropbox at: https://www.dropbox.com/sh/wfnafs8ojqn5nh1/tS0bC7hROs.