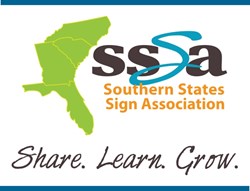 The association [SSSA] works diligently to make these events an overall win for all involved.
Myrtle Beach, SC (PRWEB) November 06, 2013
The Southern States Sign Association (SSSA) brings together Local and National Sign Companies, Supply Distributors, Product Manufacturers, Manufacturers Representatives, and Wholesale Sign Companies from North Carolina, South Carolina, Georgia and Florida; The Association delivers a direct and constant resources for the members in the sign industry.
The Fall conference kicked off with a networking event allowing various members of the sign industry to mix and mingle. iPad minis donated by Vantage LED, golf "cheats," and the chance to win a cruise (donated by the SSSA) helped spice up the event and bring in an additional $3,168 for the SSSA scholarship fund which helps member's families, employees, and others with educational efforts.
The second day was full of fun in the sun as members took to the green and teed off in an all-day golf tournament. A few walked away with a bit more humility, some with trophies, and everyone with the pleasure of getting to know their fellow members a little better over the course of 18 holes and a lot of shared swings.
David Bittenbender, regional sales rep for Vantage LED, considered the event a great success for all. "The association works diligently to make these events an overall win for all involved. The networking opportunities were great and offered a more relaxed environment for businesses to collaborate and share notes on the industry as a whole, learn a bit more about improving their businesses...and have fun."
The third day rounded things out with seminars for the sign industry and a BBQ luncheon (sponsored by Tubelite) at Tyson Sign Company. Ebbie Phillips, President & CEO of Tyson Sign Company) stated, "We were very pleased to host the recent SSSA Fall Conference. It was well attended and the seminars presented on Saturday were very well done and quite informative."
Dave Brelhof with SignCorp kicked things off with a presentation on Simplifying and delivering Cost Effective Extrusion Solutions followed by an excellent presentation by Michael F. Sullaway, P.E., on Sign Engineering. Deacon Wardlow completed the day with a presentation on Digital Signage and the sign industry.
"Vantage LED's Deacon Wardlow presented a thorough seminar on Digital Signage which I walked away from with a greater technical understanding of Digital Signage and discussion points to aid in the sales effort," shared Dennis Toner of Colite International.
In response to Vantage LED's donations and assistance with the SSSA Fall Conference, Annette Southern, President of the SSSA and Director of Project Management for Atlas Sign Industries stated, "You [Vantage LED] have proven to be a leader in our industry not only in technology but in your support of our association."
The SSSA and its members have proven it's possible to work hard and play hard while improving themselves and raising the bar for expectations in the sign industry. The association is taking time over the winter to put together its next event in March and looks forward to more fun and fellowship.