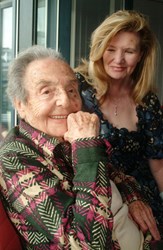 Alice is an eyewitness to the best and worst of mankind.
New York, NY (PRWEB) November 12, 2013
The Anne Frank Center USA and Barnes and Noble are pleased to honor the 110th birthday of Alice Herz-Sommer, the world's oldest known Holocaust survivor. Born in Bohemia, she was a musician from an early age. Alice played more than 100 concerts in the Theresienstadt concentration camp. She took these concerts as seriously as if she were playing in Carnegie Hall, inspiring comfort and hope with her prisoner audience. Alice's life in music is still transcendent.
Caroline believes Alice's long life and especially her clear mind are attributable to her ability to live in a state of forgiveness, forgoing bitterness, and hatred.
She is the only person known to be able to play works by Bach, Chopin and Schubert at 110. Ms. Herz-Sommer, who lives alone in London, still practices piano (Bach and Schubert in particular) three hours daily, speaks five languages, and will celebrate her 110th birthday on Tuesday, November 26, 2013.
Patrons are encouraged to use Bookfair ID Number 11185972 and a percentage of the net sale will be contributed to The Anne Frank Center USA. If you can't attend the bookfair in person, visit Barnes and Noble Book Fair to support The Anne Frank Center online from November 26, 2013 to November 30, 2013 entering Bookfair ID 11185972 at checkout.
About The Anne Frank Center USA
Otto Frank, Anne's father, founded the Center in 1977. The Anne Frank Center honors the life of Anne Frank and her diary by making it a living history lesson of the consequences of anti-semitism and other forms of hatred and intolerance. The Center reaches out to young people throughout New York City and to museums and libraries across the US and Canada with her powerful story in order to educate people about current issues of religious, ethnic, and racial hatred around the world. Additionally, the Center distributes traveling exhibits throughout North America, offers permanent and temporary exhibits in its New York City gallery, as well as programs, lectures, and films to students and the community.
The Anne Frank Center USA is a non-sectarian, non-profit educational organization created under IRS Code 501(c) (3).