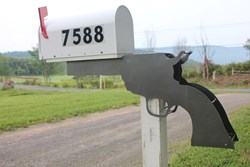 An armed society is a polite society Robert A. Heinlein.
Huntington Station, New York (PRWEB) November 07, 2013
HYSKORE® (http://www.hyskore.com) the nationally recognized brand of competition grade shooting accessories announces the introduction of rural mailbox mounts designed to appeal to the shooting sports enthusiast. 4 models were chosen because they are the most recognizable and iconic firearms in both the memory and inventory of shooting sports enthusiasts. They are the Browning model 1911 Semi-automatic pistol, the Colt Single Action Cowboy 6 shooter, the Winchester model 94 Cowboy lever action rifle, and the AR15. The mounts are made from 100% welded steel construction with a durable, weather resistant powder coat finish. The AR15 and cowboy lever gun are oriented with the barrel pointing up. However, the model 1911 and the Single Action Cowboy can be mounted with the barrel pointing straight out, or for the politically correct, there is an optional shelf kit that mounts the barrel pointing up.
From a purely functional and esthetic point of view these mounts give the gun enthusiast a golden opportunity to dress up the rusty old letter drop with something that's both attractive and attention getting. There is little doubt that putting your mailbox on any one of these is guaranteed to irritate the living daylights out of gun grabbers and liberal neighbors. Just think how much one of these will be able to stand out from the crowd. According to HYSKORE® spokesman, Ted Werner, "In the current political and social climate, as it relates to gun ownership, many citizens want to demonstrate their feelings regarding this important issue. Our post toppers allow them to do this in a tasteful and functional manner."
For very good reason Americans feel that the rights guaranteed to them in the Constitution and the Bill of Rights should not be perverted or manipulated; and the formers of the Bill of Rights made the right of gun ownership second in their priority only to the right of free speech. Since the framing of the Constitution and the Bill of Rights the demographics of the United States have changed significantly. With the industrial revolution and the mechanization of large scale agriculture, Americans have moved from rural venues to cities and towns. In this process many of them lost their connection to their rural pioneer roots and firearms ownership. Violent crime statistics in states that have liberal firearms ownership laws versus those states with restrictive ownership laws clearly demonstrate that an armed society is a polite society. As the personal ownership of firearms, as documented by FBI NICS background investigations, has increased (in just the past 4 years Americans have purchased over 40,000,000 personal firearms), violent crime statistics have fallen to record lows. Most people would agree that not everybody needs to own a Browning model 1919 .30 caliber machine gun (Ownership of this type of gun was restricted by the 1934 National Firearms Act) or an AR-15 .223 cal. assault weapon. Conversely, most people also recognize the fact that where the police are only minutes away, the need to protect yourself is immediate, and that there is no substitute for a gun.
The toppers have a durable powder-coat finish, and no moving parts. They can be mounted either in a horizontal attitude with the barrel pointing out or with the barrel pointing up. Either way they provide an opportunity and an incentive to do away with the rusty, unattractive mailbox that's sitting in front of the house, and replace it with something that's really cool. HYSKORE® recognizes that revolvers and semi-automatic pistols are extremely popular. They also recognize that many people have a strong attachment to the AR15 style semi-automatic rifle in 5.56 / .223 and the iconic Winchester model 94 in 30-30.
A full range of long gun and handgun maintenance and shooting accessories including compression dampened recoil attenuating shooting and tactical / varmint rests is available from HYSKORE® (http://www.hyskore.com). The line up consists of the Rapid Fire® Precision Shooting Rest, the Bench Beast® Coaxial Competition Shooting Rest, the DLX Precision Sighting Rest, the Dangerous Game® Machine Rest, the Dead Eye® Tactical & Varmint Rest, the Parallax Cleaning and Sighting Rest, the Black Gun® Machine Rest, and the Black Gun® Shooting Rest, which is designed for AK-47 and AR15 tactical rifles with high capacity magazines and pistol grips. These are all fully supported on the HYSKORE® website with instruction manuals, target downloads, and both demo and tutorial videos. Most importantly, these advanced shooting accessories are affordable to the average shooter. Since many HYSKORE® products are manufactured from cut welded finished steel, it was decided that making mailbox post toppers in the shape of the model 1911 Browning semi-automatic pistol, and the Colt single action army revolver were compatible with our manufacturing processes, and would provide a great opportunity for consumers to make a statement regarding their feelings on gun ownership and our society.
The model 1911 and Single Action Cowboy will be available from the NRA Store, Sportsman's Guide, and other retailers starting November 2013. The cowboy lever gun and AR15 will be available February of 2014.
HYSKORE® (http://www.hyskore.com) is a registered trademark of Power Aisle, Inc. (Est. 1988) of Huntington Station, New York 11746, 631/673-5975. HYSKORE® manufactures a proprietary line of advanced, purpose built, tactical and sport shooting accessories including shooting rests, multi-function electronic hearing protection, pistol rests, pistol racks and sundry accessories. HYSKORE® products are available at numerous retailers including: Cabela's http://www.cabelas.com, BassPro http://www.basspro.com, Sportsman's Guide http://www.sportsmansguide.com, The NRA Store Cheaper Than Dirt, http://www.cheaperthandirt.com, Brownells http://www.brownells.com, and Midway USA http://www.midwayusa.com.