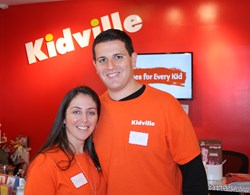 (PRWEB) November 05, 2013
Kidville Mount Kisco welcomed more than 350 families for the first time on Saturday, Nov. 2 and Sunday, Nov. 3 for its Grand Opening celebration. Kidville's newest location, located at 145 Kisco Avenue, Mount Kisco, NY, is the first in Northern Westchester and one of the largest in the country at 6,100 sq. ft. The facility features a state-of-the-art Big Muscle Gym playspace, a retail boutique, birthday party space, a theater and studio.
Grand Opening activities included several standing room only performances by Kidville's signature Rockin' Railroad band, face painting, balloon artists, glitter tattoos, arts and crafts and a family photo booth.
Kidville was officially welcomed to the community during a ribbon cutting ceremony held Monday, Nov. 4 with Mount Kisco Mayor Michael Cindrich and Mount Kisco Chamber of Commerce board members. Diana Mann, "Mayor" of Kidville Mount Kisco, was also joined by her husband, parents and two children during the ceremony.
"We are thrilled to open our doors to the Northern Westchester community," said Diana Mann, "Mayor" of Kidville Mount Kisco and mother of two who grew up locally. "We are so happy to be in Mount Kisco and are so grateful for the overwhelming response we've received so far."
Registration is still available for the fall 2013 semester as well as the winter 2014 semester that will begin the week of January 13th and continue for 16 class weeks through the week of April 28th. For more information about class schedules, please visit http://www.kidville.com/mtkisco, call 914-458-1909 or "Like" Kidville Mt. Kisco on Facebook .
About Kidville:
Kidville operates large, upscale facilities, catering to young children and their families. In addition to offering a wide range of developmental classes for newborns through six year olds, including Rockin' Railroad™, Run Wiggle Paint & Giggle®, My Big Messy Art Class®, Big Muscles for Little Babies®, Ballet Tea Party™, Kidville Gymnasts™, Kidville Sports™, Camp Kidville™ and Kidville University™ (Kidville's Pre-School Alternative Program). Kidville also features an indoor playspace, birthday parties for children up to age nine, and a retail Boutique. Silver Membership is free with enrollment in any Kidville class, while upgrades to Gold, Platinum and Diamond levels are also available.