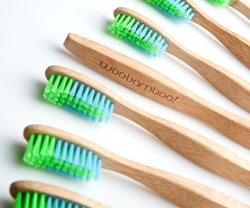 Biodegradable, sustainable, stylish! For the eco-friendly person in your life, get a bamboo toothbrush from WooBamboo.
(PRWEB) November 06, 2013
The holiday shopping season is almost here, and finding the perfect stocking stuffers can be a challenge. Anyone can give candy, gift cards or holiday-themed lip balms; it's practically expected. This year, why not surprise your loved ones with a stocking stuffer that's truly personal? With increasing numbers of people becoming concerned about their impact on the environment, it's likely that you have more than a few green-minded friends and relatives on your gift list. Imagine their surprise when they pull stylish, practical and Eco-friendly bamboo toothbrushes from their stockings. Get them here.
Why is a WooBamboo toothbrush the Perfect Gift?
Everybody uses one, but few people ever give any thought to a toothbrush's impact on the environment. The typical plastic toothbrush is made from materials that will end up in landfills and not break down in our lifetimes or those of our children. America alone puts billions of toothbrushes into landfills. As we see the effects of our carbon footprints more clearly every year, it's important to start making small, environmentally friendly choices that make a larger impact in the long run. If you give bamboo toothbrushes as gifts, your forward-thinking friends will appreciate your interest in their efforts, and you'll enjoy knowing that an impersonal gift card or a calorie-laden piece of candy could never inspire the same sincere smiles. Be sure to also include your friends who aren't interested in the environment; even if they can't appreciate the idea behind the gift, they'll love the product, and you'll have saved the planet from at least one plastic-handled toothbrush. In fact, your non-green friends may even become bamboo toothbrush converts, and one good habit leads to another.
What Benefits Does the Bamboo Toothbrush Offer?
Besides being the classiest personal care item in everyone's bathroom or overnight bag, this natural toothbrush offers great perks for its user and the planet. Bamboo is naturally resistant to bacteria, so nasty germs won't take residence in the toothbrush's handle. Organically grown bamboo is 100 percent sustainable. It's never exposed to dangerous chemicals or pesticides. Because it grows quickly, bamboo is an easily replenished resource. Its use doesn't contribute to massive deforestation problems. When compared to other hardwoods, bamboo releases 35 percent more oxygen into the atmosphere, so it even improves air quality. Bamboo handles on toothbrushes are sealed with a natural wax. With minimal care, they retain their integrity and good looks; simply keep them from excess moisture when you're not using them.
Find the Perfect Bamboo Toothbrush at Woobamboo.com.
Woobamboo is a leading creator of quality bamboo toothbrushes. The bamboo they're made from is sustainably grown, BPA-free and organic, so they have all the qualities both you and Mother Nature demand. Their handles are smooth, durable, ergonomically designed and completely biodegradable. Woobamboo's toothbrushes also feature quality Dupont Tynex nylon bristles to provide the best tooth and gum cleansing, so they make dentists happy too. For a remarkably beautiful, eco-friendly bamboo toothbrush, visit Woobamboo.com, and order everyone on your shopping list the gift that gives its recipients plenty of reasons to flash a healthy smile.