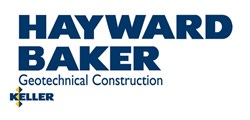 Hanover, Maryland (PRWEB) November 05, 2013
Hayward Baker announces that its parent company, Keller Group, has agreed to purchase Esorfranki Geotechnical, the largest ground engineering business in South Africa. The acquisition is predicted to reach completion by the end of November 2013.
Esorfranki Geotechnical will revert to its original name, Franki, but the market-leading business will continue to be run by its experienced management team. It will form part of the Group's EMEA division.
This acquisition will accelerate Keller's entry into select sub-Saharan construction markets, where significant growth fueled by major infrastructure and resource-related projects is expected over the medium to long term.
Esorfranki Geotechnical provides design-and-build services to the mining, civil engineering and construction industries. It is engaged in the construction of piling, pipejacking, lateral support and ground improvement. Although its principal market is South Africa, the business also has operations based in Angola, Botswana, Ghana, Tanzania, Swaziland, Lesotho, Nigeria, Namibia, Mozambique and the Indian Ocean Islands.
Justin Atkinson, Chief Executive of Keller, stated, "The combination of Esorfranki Geotechnical's local knowledge and resources with Keller's scale, experience and broad range of techniques will make us ideally placed to undertake complex major projects requiring design expertise and multi-product solutions in a region where we expect the longer-term opportunities to be significant."
About the Keller Group
The Keller Group of companies is a multinational organization providing ground engineering services throughout the world.
Keller is the world's largest independent ground engineering specialist, providing technically advanced, cost-effective foundation solutions to the construction industry. With global annual revenues of around ₤1.5 billion, Keller has approximately 8,000 staff worldwide.
Keller is the clear market leader in the U.S., Canada and Australia, and has prime positions in most established European markets as well as a strong profile in many developing markets. Web site address: http://www.keller.co.uk.