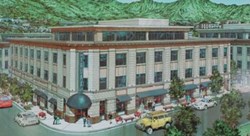 We welcome anybody coming to see and do the due diligence of what we do.
Temecula, CA (PRWEB) November 25, 2013
The construction of Traux Building, an EB-5 project, is now back in full swing after coming to a halt last summer. Truax explains, "The building went up awfully fast, however, the EB-5 funding was on a different schedule entirely and our expenditures got beyond their ability to keep up with the payments."
Initially, the building was slated to be complete in June 2013, but instead, construction stopped. Truax blames USCIS and the long processing times of the I-526 petition for the hold up, adding, "What we expected was a couple million a month, what we got was a half a million to a million a month and what we spent was 2 million a month. That got deep into my personal credit line and at some point we decided it was better to stop…."
He also explains how the project was issued an RFE (Request for Evidence) and that they have answered all USCIS's detailed questions and are currently waiting for their response. "In the meantime, we've started the building back up," he says.
Located adjacent from Temecula's City Hall, The Truax Building is a 70,000 square-foot, four-story mixed-use office building. The top floor will house the headquarters of Truax Development, which is currently across town. Last year, when EB-5 Investment Report first interviewed Truax about this project, he reported that one level would be occupied by a steel company and that the bottom level tenants would include a bank, coffee shop and restaurant. He also reported that the $16 million project was 50 percent leased.
Truax says, according to the economic impact study, that this project will create over 500 jobs. "We planned and we knew that we had to create the jobs based not only on construction but the tenants that move in. The uniqueness of our project is, this is designed to bring people to this town that weren't in this town. So our tenant base is not someone moving from the other side of the street to over here. They are people who are not in town who are moving here."
Truax is working in conjunction with American Redevelopment Solutions Regional Center and Inland Investor Visa Group 8 to help market and handle the EB-5 aspects of the project.
From an investors aspect, Truax agreed that the investors need to take a hard look at with whom they are investing, and with due diligence and transparency being some of EB-5's biggest issues, even addressing his past history, Truax was not concerned. He says, "We welcome anybody coming to see and do the due diligence of what we do."
Although there currently are no I-526 approvals, Truax is confident that the building will be finished and fully leased by May 2014.