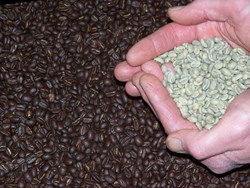 The organic coffee at Strawhouse Resorts is some of California's best.
(PRWEB) November 06, 2013
With Strawhouse Café and its site-brewed organic coffee increasing in popularity throughout Northern California, Strawhouse felt it was time to reward their loyal customers, attract new customers nationwide, and announce the start of a new loyalty program centered on their organic coffee line. It is an exciting time to be a Strawhouse Café fan and the program is beneficial for any coffee lover.
Strawhouse Resorts and Strawhouse Organic Coffee are now Lyoness Merchants. The heart of Lyoness is the underprivileged children worldwide. A portion of every dollar spent through Lyoness goes to their Child and Family Foundation. Get paid to stay or shop at the resort and café. Get paid to drink amazing organic coffee. Strawhouse pays a 10% benefit to Lyoness members in cash back and loyalty dollars.
The Lyoness Cash Back Loyalty card is the new way to shop for almost everything. It is taking this country by storm. It has been in Europe for 10 years now, and is expanding worldwide. The reason for their success is simple – customers save money, and can even make money, just by shopping for their everyday items through Lyoness merchants.
Interested customers can register to become a Lyoness shopper for free under Strawhouse and will receive ½ off your shipping for life. They can call toll-free 1-866-902-3267 or email info(at)strawhouseresorts(dot)com and get their free card so they can get started saving money right away.
Strawhouse Resorts is known for many things, but organic coffee is their passion. In fact, it is their specialty! Collaborating with organizations like SCAA (Specialty Coffee Association of America), NFIB (National Federation of Independent Business), CCOF (California Certified Organic Farmers), and Lyoness.us has given Strawhouse Resorts the resources to grow and cultivate their coffee line, all while maintaining the integrity of the taste, the same taste that has been charming Californian taste buds for well over ten years. This coffee is the foundation of Strawhouse Café.
In addition to delicious organic coffee such as Espresso Trinity, Ethiopian, Guatemalan, Nicaraguan and Peruvian, among others, the café also serves freshly baked goods, breakfast and lunch, including their world-famous wood-fired pizzas served every Friday. Whether it is a hot cup of coffee on a crisp autumn morning or a mouthwatering pizza on a stunning Big Flat night, Strawhouse Café is Northern California's go-to spot for a scrumptious, intimate experience. Now with the implementation of the loyalty program, that scrumptious experience has been made even better.
About Strawhouse Resorts: Since 2000, Strawhouse Café has operated Strawhouse Resorts, a resort located in beautiful Big Flat, California, along the awe-inspiring Trinity River. As the premier venue for weddings, family reunions and retreats, intimate and family getaways, accommodating both indoor and outdoor events, Strawhouse Resorts is an essential Californian stop.