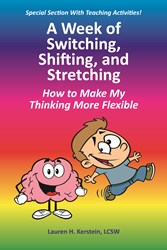 An intervention tool that no one should be without!
Lenexa, KS (PRWEB) November 07, 2013
Using empirically based cognitive behavioral therapy (CBT) strategies, A Week of Switching, Shifting, and Stretching: How to Make My Thinking More Flexible helps children who get stuck in patterns of rigid thinking and subsequently have social, emotional, and behavioral difficulties. Children will enjoy the illustrations and relate to the characters to develop rainbow thinking.
Using repeated rhymes and colorful illustrations, the child begins to recognize that the more flexible his or her thinking is, the better he or she is able to cope with the challenges that life presents, ultimately leading to fewer tantrums and meltdowns.
About the author:
Lauren Kerstein, LCSW, is a licensed clinical social worker who specializes in working with children, adolescents, adults, and families. After receiving a master's in social work from the George Warren Brown School of Social Work, she completed a post-master's fellowship at JFK Partners, the University Affiliated Program at the University of Colorado Health Sciences Center. In addition to children diagnosed with autism spectrum disorders, Lauren works extensively with children experiencing anxiety, depression, relationship skill difficulties, as well as developmental or mental health needs. Lauren is the author of My Sensory Book: Working Together to Explore Sensory Issues and the Big Feelings They Can Cause: A Workbook for Parents, Professionals, and Children and a textbook about Asperger Syndrome; additionally, she is a guest blogger for SensorySpot.com. Finally, she is an adjunct professor at the University of Denver in the Graduate School of Social Work and a national speaker.
About AAPC Publishing:
Established in 1999, AAPC Publishing's mission is to be the first source for practical solutions related to autism spectrum and related disorders. AAPC is an independent publisher, targeting professionals and parents alike. AAPC Publishing strives to offer publications at affordable prices so that important resources are available to anyone with an interest in the autism spectrum.
For media inquiries, please contact marketing(at)aapcpublishing(dot)net.