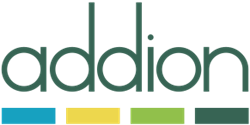 North Hollywood, CA (PRWEB) November 05, 2013
Addion has officially graduated from beta and is now offering its online marketing tool to small businesses and small agencies with two unique offerings. First, savvy online marketers can use the sophisticated platform to manage their own campaigns for as low as $19.99 per month. Second, marketers that don't have time to master online advertising can have Addion manage the campaigns according to set budgets and targeted goals. All users get access to the Addion platform where they can easily understand their campaign performance, dive into cross-channel analytics or run one-click reporting.
This is important because small businesses simply have not been able to capture the opportunities in online advertising. According to a recent study by the Boston Consulting Group, only 3% of small business advertising dollars go to online advertising. These small businesses – like hair salons, furniture stores and many more – don't have time to become experts in online advertising. They rely heavily on advice from peers, many of whom have been burned in the online space before. The study states that "online advertising companies still struggle to effectively serve the advertising needs of small businesses" due to a "gap between what smaller businesses spend online and what online platforms sell". Current options in the market, such as Marin, Acquisio and Kenshoo, require large minimums and an extensive knowledge base – and small business owners just don't have the time or money to make these realistic options. Addion helps close this gap by offering small businesses a simple and easy-to-understand ad platform where they can clearly define their budgets and goals. With no monthly minimums or lengthy commitments, small businesses can easily test into the space with little to no risk.
Two plans were released yesterday with the end of the free beta period:
Addion Pro gives users full access to a complete online campaign management platform with in-depth cross-engine analytics, automated bid management capabilities and much more. This option allows users to take full control of their accounts and leverage professional tools to help automate campaign management – without paying enterprise-level fees. This plan starts at $19.99, with additional fees if monthly spend is over $5k.
Addion Express is a perfect option for small businesses and full service agencies that don't have the time to become experts in the field, but realize they need paid search as part of their overall media mix. With Addion Express, users simply specify budgets and performance goals, and Addion's pros will build out campaigns and manage them towards the defined metrics. Express users get full visibility into their accounts and performance via the platform interface and regularly emailed reports. Users pay their defined monthly budget up front to fund their account.
Signing up for Addion's web-based online marketing campaign management platform includes the advanced features below:
Campaign analysis and management:

Change individual bids within the interface (Pro)
Drag, sort, add/remove, and filter columns as needed
View all campaigns, ad groups, keywords, ad text and all metrics across engines
Compare week-over-week metrics with one click, and spot deltas fast
Alerts & Recommendations: (Pro)

Addion alerts help highlight any changes in performance that may need immediate attention. For many of our custom alerts users will also receive expert recommendations and step-by-step instructions on how to resolve the issues.
Bid rules:

Automate bidding based on predefined goal templates or custom targets (Pro users have full access and control over their bid rules. Addion manages bid rules for Express users.)
Tags: (Pro users can create and implement tags as needed. Express users have tags set automatically by Addion)

Report on themes that extend beyond normal account structure-- group similar keywords across ad groups, campaigns and engines, for reporting and bid management. (Added benefit: historical stats are available for any new tag group)
Reporting:

Run top level metrics or dive deep into details with easy-to-use, but powerful filters, sliders, and slice & dice controls
User Management: (Pro)

Create logins for others and manage their permissions and access – perfect for agencies fed up with expensive pricing options
More information is available at: http://www.addion.com
About Addion: Addion was created by a digital agency that too often had to turn down small businesses who couldn't afford agency fees, but who really needed a solid online marketing program. Undertaking a mission to help this underserved demographic, Addion created user-friendly but powerful agency tools to make it happen. Drawing from impressive backgrounds at Microsoft, Yahoo!, Overture, GoTo, Intel and McKinsey, Addion's founders leveraged their existing campaign management tool set and developed a powerful, yet easy-to-understand user interface that small business owners could use to easily and effectively manage their online ad campaigns themselves. And, since the technology's core was already being used for agency clients, Addion could offer the tool to all users at a very affordable price.
Contact: Mark Evans, CEO, mark(at)addion(dot)com