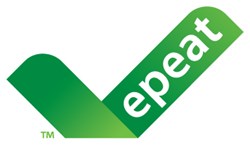 Portland, Oregon (PRWEB) November 05, 2013
Purchasers around the world often say evaluating and sourcing greener electronics with EPEAT is "easy." Today, the Green Electronics Council announced the EPEAT website has been redesigned to help make learning more about the green-rating system just as easy.
The new EPEAT website has been overhauled to draw more attention to the content and answers that electronics purchasers and providers most often seek. It begins on the restructured homepage, which provides a window into the core of what makes EPEAT work: its diverse participants. From there, the site organizes content in a tabbed structure that puts key resources at users' fingertips.
For instance, the homepage immediately gives visitors a sampling of the leading companies and organizations that participate in the EPEAT system, from purchasers and manufacturers to resellers and non-profits. The homepage also provides easy access to information about the environmental leadership standards on which EPEAT ratings are based. Another section on the homepage includes case studies from select entities that have included EPEAT-specific language in their purchasing policies.
Interior pages at the new EPEAT.net follow this same philosophy. Whether browsing the About EPEAT, Participants or Resources section, information is presented in a way that quickly and clearly demonstrates who is involved with the EPEAT system. From there, the site provides immediate access to the resources most commonly sought by each distinct type of visitor.
The core of the site, the EPEAT Registry of greener electronics, remains intact. Over time, the Search tool will be updated to reflect the non-Registry pages. Those updates will not interfere with the fast access Purchasers and others have come to expect when comparing the 3,000+ products currently registered in EPEAT by more than 60 manufacturers.
To experience the new EPEAT website for yourself, please visit http://www.epeat.net.