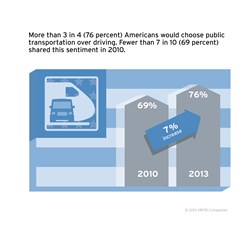 It's become clear we must embrace transit alternatives to solve our growing transportation challenges.
Kansas City, MO (PRWEB) November 05, 2013
More people are getting on board with public transportation as the cost to own and operate a vehicle rises and American consumers look for ways to save money.
That's part of the findings from a new America THINKS survey from infrastructure firm HNTB Corporation. According to the research, 3 in 4 (76 percent) Americans are open to taking public transportation instead of driving. That's an increase from 69 percent in 2010, when HNTB last asked that question.
"Successful communities thrive when transit is part of a healthy mix of transportation choices," said Liz Rao, HNTB chair public transit services. "That's never been more true as the costs of commuting by car and congestion on America's highways continue to increase."
Such sentiments are further borne out by a recent ridership report from the American Public Transportation Association, which stated there were 2.7 billion transit trips in the second quarter of 2013, up 1.2 percent from the same time a year ago. Driving, as measured by vehicle miles, was up less than half of that, at 0.5 percent. In fact, transit ridership has been up in eight of the last 10 quarters.
According to the America THINKS survey, high gas prices would drive the decision for 41 percent of Americans who would choose public transportation over driving. That's also up from previous research (29 percent) in 2010. In fact, more than half (54 percent) of Americans think getting around on public transportation for a year would save them more money than doing so via a car.
That trend likely is here to stay. Earlier this year, the price of gas surpassed a sobering milestone: a national average price of $3 per gallon for more than 1,000 consecutive days.
"It's become clear we must embrace transit alternatives to solve our growing transportation challenges," Rao said. "Having a healthy mix of multimodal transportation choices, from highways and managed lanes to light rail and bus rapid transit helps communities make the most of the facilities they have and will invest in."
Convenience Drives the Price of Admission
Tired of traffic and hurt by high gas prices, many Americans are turning toward alternative transportation options, particularly transit. Yet the survey also shows traditional transit systems often struggle to meet the needs and expectations of passengers.
Four in five (80 percent) Americans would be motivated to use public transportation more often, with many of them stating they'd boost their ridership if the transit service was conveniently located (58 percent), less pricey than driving (56 percent) or conveniently timed (50 percent).
Consumers are craving more convenient public transit options. Yet half the nation feels that public transportation is usually inconvenient more often than it's convenient. More than 9 in 10 (91 percent) Americans believe the nation's public transportation needs to be improved in some way. Many public transit agencies are exploring such options, including the introduction or expansion of bus rapid transit facilities.
In fact, for many of those people who believe public transportation needs to be improved, those improvements revolve around convenience, such as well-planned pick-up and drop-off spots (58 percent), schedules (48 percent) and connections to key transportation or public facilities (40 percent). Improvement that save users money (52 percent) and time (42 percent) also are desired, but far fewer (30 percent) say crowding needs to be reduced.
About the Survey
HNTB's America THINKS transit survey polled a random nationwide sample of 1,127 Americans Sept. 5-12, 2013. It was conducted by Kelton, which used an e-mail invitation and online survey. Quotas were set to ensure reliable and accurate representation of the total U.S. population ages 18 and over. The margin of error is +/- 2.9 percent.
About HNTB
HNTB Corporation is an employee-owned infrastructure solutions firm serving public and private owners and construction contractors. With nearly a century of service, HNTB understands the life cycle of infrastructure and addresses clients' most complex technical, financial and operational challenges. Professionals nationwide deliver a full range of infrastructure-related services, including award-winning planning, design, program delivery and construction management. For more information, visit http://www.hntb.com.