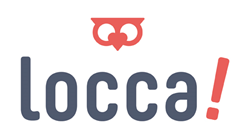 It was the most terrible ten minutes of my life. Ever since then my team and I have been rapidly developing the Locca devices.
Los Angeles, CA (PRWEB) November 07, 2013
With November being National Child Safety Protection Month in the United States, Austrian startup Locca, the world's most sophisticated GPS locator, wants to raise awareness for children's safety by launching their BuddyPack in the U.S. The Locca BuddyPack includes a LoccaPhone, docking station and Bluetooth headset, as well as two silicon cases for keeping in touch with children both by phone and real-time GPS tracking.
The idea for Locca came to Founder and CEO Julian Breitenecker after he lost his son Ben on a playground while on holiday in Tel Aviv. Wanting to personally raise awareness for children's safety through his creation of Locca, Breitenecker explains, "It was the most terrible ten minutes of my life. Ever since then my team and I have been rapidly developing the Locca devices."
The Viennese hardware startup Locca developed the locating device, the LoccaPhone, to aid parents in knowing where their child is located at any time and to get in touch with them using the telephone functions. Through different safety zones like the Geo Zone or the Me Zone parents and caretakers are able to control where the child resides, putting them at ease. If the child leaves the safety zone the parent gets a notification on their smartphone, tablet or the web. Once a child has become lost or missing, parents can immediately call their child by utilizing the phone capability. The same goes for children who feel in danger, who can press one of three custom programmable buttons that can dial three different phone numbers. Locca recommends that one button be programmed to an emergency third party while the other two are connected to emergency contacts like a parent or caretaker.
The LoccaPhone is the most reliable system of its kind and is equipped with a SIM card that allows unlimited positioning all over the world for a monthly flat rate of $20.30, covering data usage and an emergency hotline. After a six-month contract, the scale can be paused three times a year. The LoccaPhone, which is only 60 grams in weight, is water- as well as shockproof and can be easily attached to a child for up to 40 days of active time.
In order to stimulate the gadget's serial production, Locca started an advance sale through the crowd-funding platform Indiegogo (http://igg.me/at/locca). On the portal, users can order the Locca BuddyPack in advance which until the third of December includes a 30 percent discount. The BuddyPack can be purchased for $203, which includes the semiannual dues for the roaming SIM card. The Locca BuddyPack will be delivered within the first quarter of 2014 directly to all customers, who have pre-ordered a Locca device.
About Locca:
Locca is the world's smallest, lightest and most sophisticated GPS locator with precise in- and out-door locating technologies that allow users to stay in contact with everyone and everything by using a smartphone app, tablet or desktop. Launching first in Germany and Austria, Locca is now available to the US market as its cutting-edge location technology is operational worldwide for international use, combining five superior tracking technologies including FSK, GSM cell triangulation, Bluetooth Low Energy, WiFi, and AGPS.
The two varieties of Locca, the LoccaMini and LoccaPhone, are ideal for tracking the location of small objects and animals and infants and the elderly, respectively, with communication software included with the LoccaPhone. Both come with a pre-installed SIM card, beeper for audio-locating, motion detector, LED flashlight, energy saving mode, as well as waterproof and shockproof housing, as part of five customizable packages.
Locca is in the presale phase and has launched an Indiegogo campaign to raise additional funding. Within a year and a half, Locca has been able to develop the ultimate tracker unifying qualities of modern design, minimal constructive, intuitive handling, extensive battery service life, and a prime tracking technique. For more information, please visit http://locca.azurewebsites.net/1139.aspx.