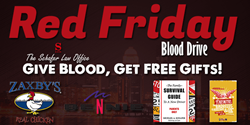 The goal is to make Black Friday a "Red Friday".
Louisville Ky (PRWEB) November 15, 2013
The Schafer Law Office will to be hosting a blood drive on November 29, Black Friday, at the Palace Theater in Louisville Ky. The goal of the blood drive is to make Black Friday a "Red Friday". Mike Schafer is partnering with the American Red Cross to secure as many pints of blood donations as possible.
That same night at the Palace is The Faces Series concert with some local great bands, which includes The Tunesmiths, The Badreeds El Roosters and Woodrow on the Radio.
For anyone who is donating blood, The Schafer Law Office has secured some special gifts as a thank you to those who participate. Along with getting free entry to the show that night, participants will also be given:

Zaxbys coupon for a buy one chicken dinner get one free
A Free Express Car Wash from Bowtie Car Wash
Samples of hair care products from Hair By Bennie and Friends
A Free Survival Guide Book by Mike Schafer
Red Cross Tee Shirt
A Free Water Massage from Dynamic Rehab,
A Gift Bag from Goshen Animal Clinic
The event will be held at The Palace Theater which is located at 625 S 4th St. The event will start at 11:00am and it will be finished at 4:00pm.
To sign up for the event, go to redcrossblood.org and type in Sponsor Code 7126. You can also see more details at http://www.mikeschaferlaw.com