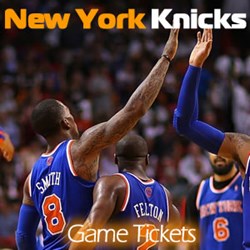 There may be no other site anywhere that provides fans this kind of information to find low prices for Knicks tickets based on seat preferences within Madison Square Garden.
New York, NY (PRWEB) November 06, 2013
Finding Knicks tickets cheap represents a goal of New York NBA fans everyday. Until now, hunting for low priced basketball tickets meant spending a fair amount of time often without ever finding the right seats. Thanks to the newly introduced cheapest event ticket tool at KnicksGameTickets.com fans of the orange and blue may find the lowest Madison Square Garden game prices in a matter of seconds rather than hours for all of the home Knicks contests.
Once on the Knicks Game Tickets page, users may proceed in several ways. Start by imagining that a person living in New York City wanted to see the Knicks play in Madison Square Garden and that they could attend on any day. With New York NBA tickets sold out for months in advance most of the people needing tickets on shorter notice look to the resale market to sites like KnicksGameTickets.com. Let's go one step further and imagine that our hypothetical basketball buff wants a nice seat, perhaps a floor ticket. Without the advanced cheapest ticket tool a person would need to open the page for each and every game and look at all seats for sale to locate which days offered the lowest prices for the premium seats desired. The process could take hours or even days, by which time some tickets found easy on may not even still be a choice to buy.
By default the Knicks Game Tickets site displays the schedule sorted by date with a notation as to the cheapest ticket found for any seat location based on the system's most recent search. To sort the schedule in order of the least expensive games click on the words Most Recent Cheapest Ticket at the top of that column. Do perform the same tasks to establish the best games for either Section 100 - lower bowl seats or Knicks floor tickets click on the words describing your seat preference just above the horizontal line area resort by clicking on the top of the prices column again. While it may be too late to buy a $52 section 111 ticket for the Bobcats game by the time this gets published, it's easy to see the wide variance in prices game to game as the range runs up to a cheap seat of $356 in section 102 when the Knicks play the Heat on Saturday February 1, 2014. There may be no other site anywhere that provides fans this kind of information to find low prices for Knicks tickets based on seat preferences within MSG.
As for prices themselves, KnicksGameTickets.com in association with Tickets-Cheapest.com offers tickets for less than other resale sites. In a recent cost survey they beat 25 out of 25 competitors in an exact seat showdown including proving they gave fans prices cheaper than StubHub when each sold the same seat.
Tickets-Cheapest.com can provide tickets all all the other major MSG events including 3 New York City Eagles concert dates, 2 Elton John shows, 4 Phish New Years Eve performances, a Luke Bryan MSG show that goes on sale Friday and a new item just announced featuring Sting And Paul Simon on stage together. Sports fans may also find New York Rangers, Giants, Jets, Yankees and Mets tickets too.
Give KnicksGameTickets.com and Tickets-Cheapest.com a chance the next time a need for sold out seats or premium tickets arises, save some money and enjoy a game. Now save even more by using discount coupon code trycheapest10 at checkout and let them prove their prices can beat the other ticket resale sites with larger advertising budgets and offer more useful tools too.
About Financial Firebird, Knicks Game Tickets and Tickets Cheapest
The site to buy Knicks Game Tickets Tickets online and its sister sites, including the Buy Cheapest Tickets online site all geared for the consumers looking for discount pro sports tickets, are affiliated with the Financial Firebird Corporation Travel Group, and stand among the top sites sought by travelers and people who enjoy concerts, pro sports and theater performances. Financial Firebird Corporation provides unbiased consumer information, software and marketing services - established 2000 and a proud BBB member. These sites for consumers to buy tickets online operate in the resale market and maintain no relationship with the venues or performers, the resale ticket market allows consumers access to popular events once the box office has sold out or to buy premium seats when the venue no longer offers any inventory. Within the group of these secondary market ticket services the Financial Firebird owned ticket sites offer lower prices than competitors. Find the sites at KnicksGameTickets.com and Tickets-Cheapest.com.