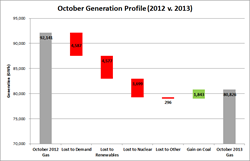 Boston, MA (PRWEB) November 06, 2013
Unable to capitalize on a high level of coal-fired power plant outages, October gas generation fell 14% compared to last year due to lower electricity demand, and a combination of increased renewables and nuclear generation. (View October Generation Profile 2012 v. 2013 Graph) Electricity demand was back to April levels with a quicker fall of the cooling load in California and Arizona, which experienced cooler than seasonal conditions. In PJM and MISO warmer than seasonal weather kept the area within shoulder season range and prevented early heating load events.
Renewable generation was also up as the increase in installed wind capacity continues to play a major role in power generation. In the fourth quarter of 2012 8380MW of wind was added to the grid as projects rushed to take advantage of the expiring Federal Renewable Electricity Production Tax Credit. Over the last year, areas like ERCOT and CAISO have continued to see tremendous growth in wind capacity. A favorable weather pattern with persistently strong southerly wind flow and the near 500 MW year-over-year increase in installed capacity helped drive ERCOT's wind generation up 9% in October 2013.
Genscape's proprietary monitors indicated 40 plant outages by the last week of October, which was the highest number of monitored outages seen year-to-date. The outage at the 2GW Monticello unit in east Texas, one of the many outages Genscape detected in October, helped spark a 14% uptick in gas-fired generation in the south to end the month.
Year-to-date gas-fired generation continues to trail 2012 by 13%. It has lost considerable ground to coal-fired generation and weaker power demand, as well as stronger renewable generation and nuclear output. Coal-fired generation is up 65,530GWh (+5%) year-to-date, renewables are up 24,464GWh (+6%), and nuclear output is up 9,718GWh (+2%). (View YTD Generation Profile 2013 v. 2013)
Genscape's Generation Fuel Monitor Report offers daily views of fuel consumption at U.S. power plants for all power sector fuels: coal, gas, hydro, wind, nuclear and oil. The report takes advantage of Genscape's thousands of patented and high-tech in-the-field energy monitors and proprietary models built by Genscape's analysts and developers. Learn more or register for a free trial here: info.genscape.com/fuel-monitor-Nov13.
About Genscape
Genscape is the leading global provider of energy information for commodity and financial markets. Utilizing patented technologies and proprietary algorithms, Genscape provides accurate and timely data on capacities, flow and utilization for all major energy commodities. With thousands of sophisticated energy monitors strategically deployed all over the world, Genscape is unique in its ability to measure and collect energy market fundamentals. These "measured actuals" are then transmitted to clients in real-time or near real-time. Genscape clients often gain first-mover advantage and increased market transparency to better optimize their positions. For more information, please visit http://www.genscape.com.